Q: What does digital scholarship and performance art have in common?

A: The Lynn Book Projects collaboration between ZSR's DISC team and Theatre & Dance faculty member Lynn Book!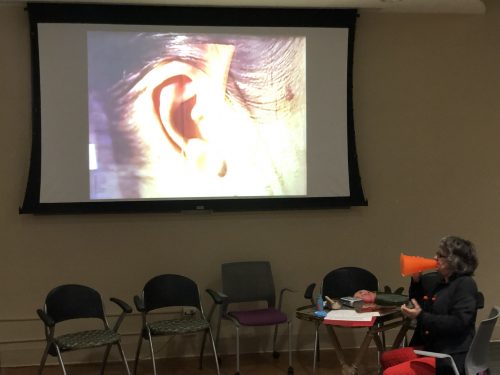 Lynn Book, an interdisciplinary, transmedia artist is working with the DISC team to catalog and archive materials from her 40 years of artistic life. Through digitizing and archiving her work, Book aims to create a platform for further experimentation and inspiration, creating her own personal canon. Starting with a pilot around one project, Gorgeous Fever, Book and DISC have worked since 2017 to begin populating her Lynn Book Projects site, built with Omeka, with individual items that in the future will be turned into online exhibits. Carrie Johnston provides a thorough introduction to the complexity that is the Lynn Book Projects, including the challenges of working with ephemeral materials and outdated media formats.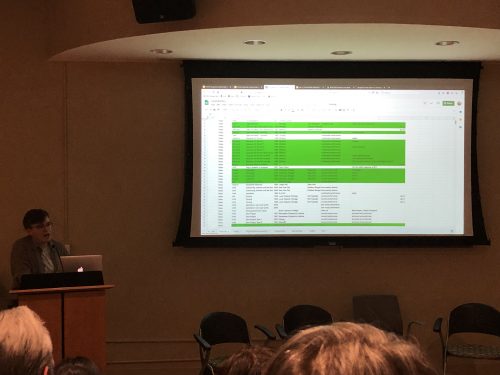 Working with the DISC team, the Lynn Book Projects team – which includes WFU alumni Jay Buchanan and Julia Ough – shared their project with the Wake Forest community on April 2nd at the Performing the Archive salon event, an evening that included a retrospective of Book's Gorgeous Fever project; a discussion of the "Lynnventory" data management process; a short live performance by Book; and a Q&A that included DISC team members who answered questions about the digital scholarship aspects of the project. The evening's event, the Lynn Book Projects itself, and all of DISC's work was aptly summed up by Book's declaration toward the end of the evening, "Let us not be bored!" Indeed!