A few days before Scott Adair's retirement on October 30th, the Communications Committee thought we would ask him 5 Questions about his 35 years at working at the library!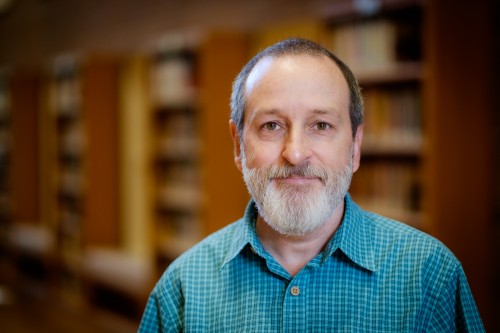 1. What is your most memorable ZSR moment?
A lot of things come to mind, like Wanda bursting into my office on 9/11 and telling me we were "under attack," standing in ankle deep flood water on Wilson 1, crawling out of what was left of Wanda's car after our horrific interstate crash, seeing a goat in the parking lot the first time I went to see the offsite storage building, Cristina Yu's memorial service, but the happiest one is the day I won the (exempt) university employee of the year award for 2011.
2. How has the library changed during your time at Wake?
In 1984, the building, the processes and some of the people immediately struck me as a little old fashioned. When the library director didn't have anything else to do, he went into the stacks to straighten shelves and put books back into their correct order. Students weren't allowed to bring food into the Library. Of course, some things never change. The photocopiers were a nightmare to keep up and running, and parking could be a challenge.
3. You've worn so many hats at ZSR – what was your favorite role in the library over the years?
That would be Monograph Resources Manager. I'm good with books, people not so much.
4. How has technology changed since you got started?
When I started, the closest things we had to PCs & Macs were a couple of OCLC terminals and a word processor. It wasn't until 1988 that I ever sat down in front of an actual computer. In ways, automation was great; typing multi-part Demco slips and filing them in a card catalog is more tedious than watching a Chekhov play. On the other hand, I didn't need an IT guy to fix a typewriter. Our first online system was Dynix, and it was absolutely primitive compared to Alma.
5. What was your student experience like? When did you attend WFU?
I was an undergraduate (Politics) from 1978 to 1982. The campus was quiet and beautiful, not the congested, traffic filled, permanent construction zone that it has become in recent years. Granted, there wasn't much to do if you weren't in a fraternity;  they had a stranglehold on the social activity on campus. "Independents" played cards and went to the movies that the student union sponsored. Of course, nobody walked around like zombies because they were in love with their cell phones. In the main dorms on the Quad, you shared one landline with seven suitemates.
Later, while working at ZSR, I managed to complete a Master's (English) in 1988 and got an education certificate around the same time.