Use Occuspace and the Waitz app to Find a Seat!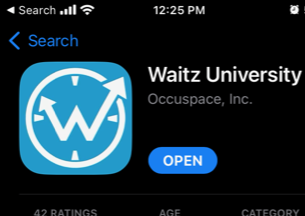 The Z. Smith Reynolds Library has rolled out a new solution to help you find a seat in the library called Occuspace and the Waitz app! Occuspace empowers students with real-time data on how busy parts of the library are. You can identify where the library is busiest by downloading the Waitz app to your device, choosing Wake Forest University and then selecting ZSR Library so you can see how busy the library is from your phone. Or just point any browser at waitz.io/wake-forest to see, in real-time, how busy ZSR is!
The sensors are located throughout highly used areas on ZSR's 2nd and 4th floors. The sensors detect the number and signal strength of wifi and bluetooth connections in the room in order to estimate the number of people there. Information gathered includes the MAC addresses of wireless devices, which may identify the device, but all MAC addresses are irreversibly encrypted before being recorded. No personally identifying information is gathered or transmitted over the network.
So now you can know how busy the library is before you go! Easily find a study space in ZSR during crunch time, mid-terms, finals, or any time! You can even see when the seating and line in Camino is not as busy!
Already used the app? Tell us what you think.