On October 25th, the ZSR Ambassadors participated in a longstanding Wake Forest tradition, Project Pumpkin. During this event, children from the Winston-Salem community are invited to go trick-or-treating at dozens of booths set up by student organizations and campus departments. In addition to collecting candy and treats, there are also activities and games at each booth for the children to participate in. This year's theme was "Storybooks", and over 500 children visited Wake Forest's campus to participate! Additionally, this event provided a fundraiser that raised over $1,000 for Freedom School.
This year, the ZSR Ambassadors collaborated with Alicia Lemar, Education Library and Outreach Coordinator and the Department of Education to offer a Halloween-themed storytime program and a bookmark crafting activity during Project Pumpkin.
Project Pumpkin Reflections and Insights:
I had such a fun time participating in Project Pumpkin this year and was grateful for the support of ZSR and the Department of Education for making it possible. My favorite part was getting to read fun Halloween stories to the kids and getting them to engage with the pictures and content in the books. I also loved seeing all of their smiling faces and adorable costumes! Parker Beverly, President, ZSR Ambassadors
I have only lived in Winston-Salem since June, and the community feeling of the event was really fun to be a part of! By participating first as a volunteer and then as a parent, I ran into some of the young people I got to know during Freedom School at Wake Forest over the summer, I saw my classmates, my children saw some of their classmates, and I even saw a friend from home whom I didn't know lived in Winston! For my kids, Project Pumpkin was a perfect mix of things to do and things to eat. They loved getting to meet some of the student-athletes and read Halloween stories. Courtney Fadley, M.Ed. student
This was my first year helping with Project Pumpkin, and I'm so glad that ZSR and Education could collaborate on this project. I enjoyed working with the students and faculty of ZSR to plan such a fun event. It was so much fun to see all the kiddos from the surrounding schools come to Wake Forest. As a parent, I love that Wake has so many outreach opportunities for our community's children. Alicia Lemar, Education Library and Outreach Coordinator
I had a wonderful time participating in Project Pumpkin this year! Since the last two years hadn't quite been normal, I am so grateful to have had the opportunity to contribute to this year's Halloween festivities. I loved engaging with the children; seeing them dressed up in costume and getting excited at each station to see what was in store. Amid a stressful week, taking the time to participate in this annual Wake Forest Fall event truly lifted my spirits! Interacting with children and making their smiles grow was priceless! Madi Shaver, ZSR Ambassador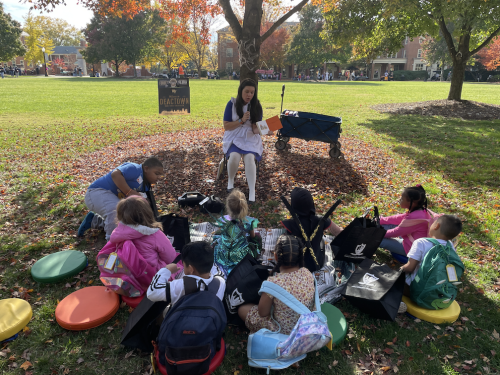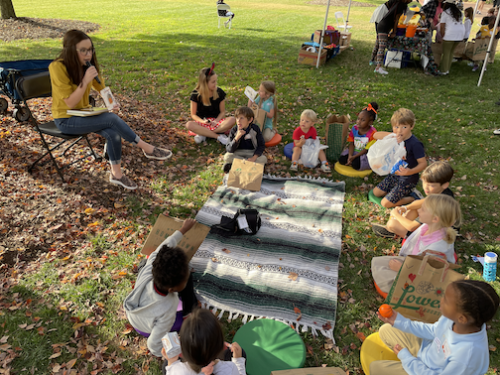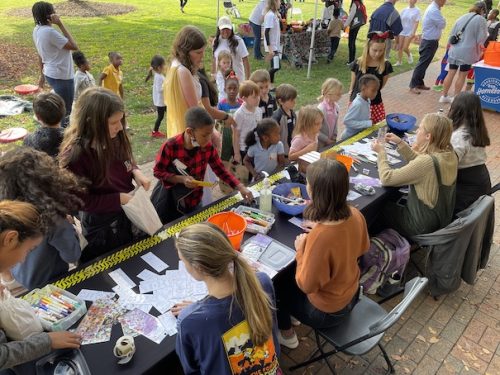 For more pictures of this event, check out ZSR Library's Flickr and the 2022 Project Pumpkin photo story.