On Valentine's Day, we paired over 400 books with eager students during our annual Blind Date with a Book program! This much beloved, pop-up library event promotes leisure reading and a love of books.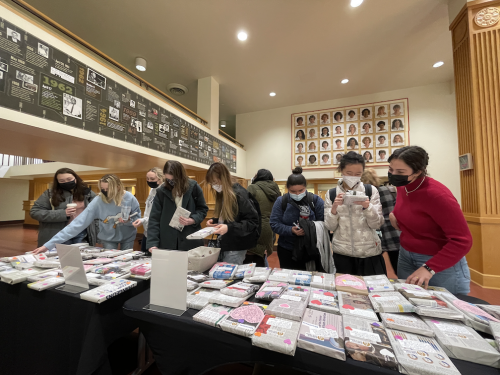 To plan for the event we collect popular fiction and non-fiction titles throughout the year, receiving book donations from ZSR faculty and staff and Bookmarks, a local independent bookstore and literary arts nonprofit organization. We make an effort to provide a wide variety of texts and a diversity of authors– everything from literary fiction to genre fiction, works in translation, graphic novels, collections of essays, poetry, and more.
This event is truly a labor of love, as each book is hand wrapped to conceal the title & author and tagged with clues about the book, such as genre and literary appeals. A great deal of gratitude and appreciation needs to be extended to our ZSR Library Ambassadors and our library student assistants in Outreach (Jacquelinne Marroquin, Amy Zinnia, and Maria Flores), as this program could not happen without their tireless efforts.
We hope all of the "blind dates" were well-matched and we are looking forward to next year's event!