Whether you know what it is or not, chances are you have heard the term "ESG" at some point over the last 12 months. ESG stands for Environmental, Social, and Governance and it is a framework to help stakeholders (like investors, policy makers, and more) understand how a specific company manages risks in these areas.
Often represented as a score or rating, there are a growing number of sources and methods for obtaining the E, S, and/or G score for a specific company. It's important to remember that there is not one standard way of calculating an ESG score or rank so understanding the methodology and source material for any provider's ESG score is essential when evaluating the credibility and usefulness of each score
In addition to our Bloomberg Terminals, we are excited to offer another premium source for this information- CSRHub ESG Ratings via our subscription to NexisUni
Used by corporate managers, investment professionals, consultants, and more the world over, CSRHub provides succinct ratings on a variety of ESG criteria including a company's commitment to human rights in their supply chain, resource management, employee compensation and benefits, and more. The reports also make it easy to see how many of CSR Hub's go-to data sources are used in the creation of each report with quick links to explore the methodology, data sources, and data schema integrated into CSRHub's analysis. Currently, CSRHub provides ratings on 30,000 companies using over 800 data sources.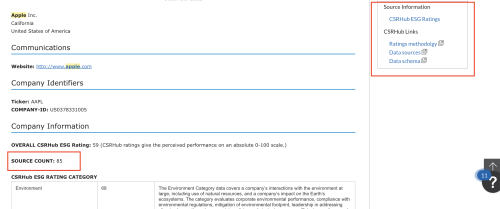 To find a CSRHub report on a specific company:
Click on the link to NexisUni from any ZSR page.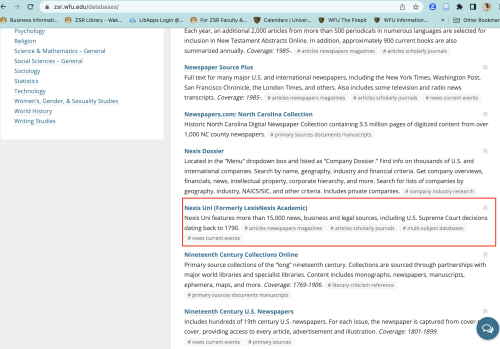 Once in NexisUni you can do either of the following:
Click

Advanced Search

and then click

Company and Financial

>

Company Profiles

. Enter the

company name

in the

search box

, and In the

Source box

, enter

CSRHub ESG Ratings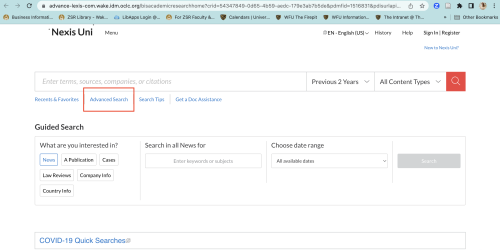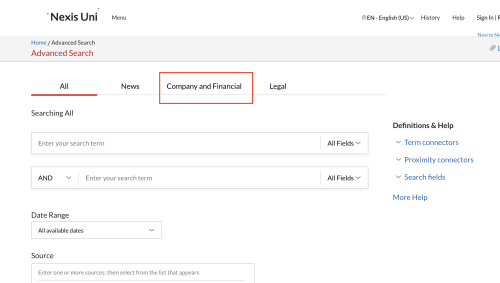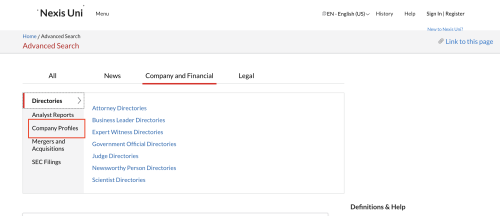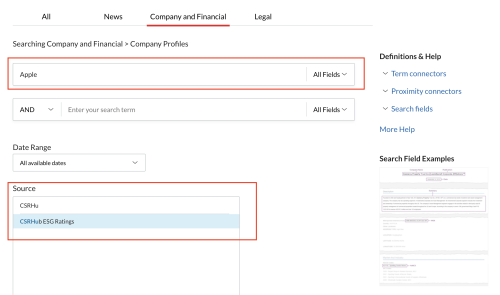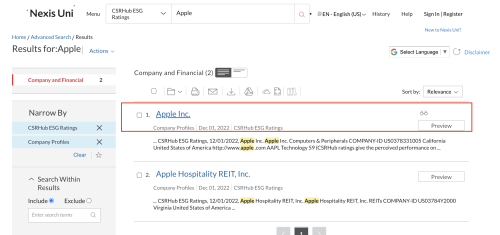 -or-
At the

search form

, enter

publication(CSRHub) AND [companyName]

in the

search box

, and then choose

Companies

from the

Content Types drop-down list.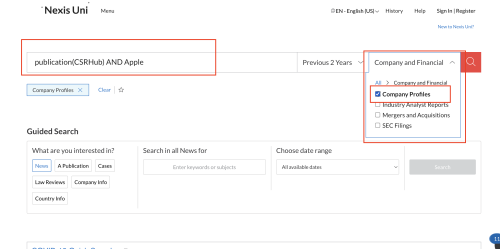 The resulting ESG Ratings document breaks down rankings for each ESG category as well as an overall rating for the company. A higher ESG Rating indicates a company with better ESG performance.
Questions? Reach out to one of our Business Librarians.