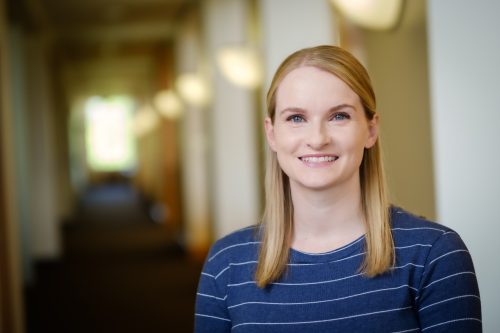 Amanda Foster Kaufman
(she/her/hers)
Learning & Instructional Services Librarian
Amanda's subject areas include: Education; Library & Information Science
Book a Research Session
Amanda Kaufman is an Instruction Librarian at the Z. Smith Reynolds Library, Wake Forest University. She serves as an instructor for the library's introductory information literacy course, LIB 100: Accessing Information in the 21st Century. Amanda graduated from Kansas State University in 2009 with a BA in English. She received a master's degree in library science from UNC-Chapel Hill in 2012.
Publications
Foster, Amanda, Cohen, Brian, & Eller, Jeffrey. (2021). Implementing a Community-Based Marketing Approach to Sustainability in Academic Libraries. Libraries and Sustainability: Programs and Practices for Community Impact. ALA Editions: Chicago, IL.
Heady, Christina, Fyn, Amy, Kaufman, Amanda, & Webber, Millicent. (2020). Contributory Factors to Academic Librarian Turnover: A Mixed-Methods Study. Journal of Library Administration, 60(6), 579-599. #
Fyn, Amy, Heady, Christina, Kaufman, Amanda, & Hosier, Allison. (2019). Why We Leave: Exploring Academic Librarian Turnover and Retention Strategies. ACRL Conference Proceedings 2019, 139-148. #
Kaufman, Amanda. (2019). Wikipedia-Based Assignments and Critical Information Literacy: A Case Study. Critical Approaches to Credit-Bearing Information Literacy Courses. Association of College and Research Libraries: Chicago, IL.
Foster, Amanda. (2017). "Top Secret Recipes: Internet Search Hacks Every Student Researcher Should Know". The First Year Experience Library Cookbook. ACRL Publications.
Presentations
Kaufman, Amanda, & Eller, Jeff. (2021, October). Sustainability and Organizational Change. NCLA/SELA 64th Biennial Conference, Virtual.
Foster, Amanda, Denlinger, Kyle, Krstevska, Summer, & Womack, Hubert. (2019, October). Watch this Space: Emerging Trends in Credit Bearing Information Literacy Courses. North Carolina Library Association 63rd Biennial Conference, October 2019, Winston Salem.
Fyn, Amy, Heady, Christina, Kaufman, Amanda, & Hosier, Allison. (2019, April). Why We Leave: Exploring Academic Librarian Turnover and Retention Strategies. ACRL 2019, Cleveland, OH.
Angela, Pashia, Critten, Jessica, Burkholder, Joel, Foasberg, Nancy, Kaufman, Amanda, & Ivory, CJ. (2019, April). Critical Approaches to Credit-Bearing Information Literacy Courses. ACRL 2019, Cleveland, OH.
Kaufman, Amanda. (2018, May). Using Wikipedia as a Lens to Explore Critical Information Literacy in Library Credit Courses. LOEX 2018, Houston, TX. #
Blog Posts
Here @ ZSR
Inside ZSR
---