I attended my first ALA in 1977 in Detroit, where I got my heel stuck in the escalator at the Renaissance Center. My last ALA turned out to be Las Vegas this past week, and there has been a large slice of Americana in between. For the first time in many years, I had no committee meetings and no required appearances so I had the luxury of going to the programs I wanted to attend. As others have mentioned, because of the extreme heat and long distances to walk, it sometimes made sense to conserve energy and stay in one location – most often the Convention Center.
I arrived on Friday afternoon and intended to go to UNLV for a tour of their library but it took an hour to check into the hotel and an hour to go through the pre-registration line, so I only had time to make dinner with our former colleague Lauren Pressley. She is very happy and it was a pleasure to talk to her! Highlights from the weekend include [I will spare you the duds]:
I have been exercising with Jane Fonda since the 80's, so I couldn't miss her talk. She showed some real insights on adolescent behavior in her newest book. The highlight was when someone in the audience asked her to consider writing a book for pre-teens and after pausing a moment, she said, "alright, I will!"
Another talk was "Libraries in the Publishing Game," a topic that I follow with personal interest. Speakers from Columbia and the California Digital Library described big-library programs that are not very realistic for us. However, Cyril Oberlander from SUNY Geneseo has shown a great deal of creativity in a library smaller than ours. I like that.
The EBSCO luncheon featured some fascinating observations from a qualitative study of student behavior. Here are some pearls about millennials that I tweeted:
Google is their mother. Google is their oxygen.
Skimming and scanning as forms of speed reading. We are no longer linear readers. [Including me]
Students say: It's about me. Not you. Me. [Sound familiar, ZSR?]
I was happy to attend the program by our friends at Forsyth County Public Library on "People Experiencing Homelessness." Elizabeth Skinner of FCPL and Raye Oldham from the State Library spoke.They demonstrated that reading is of critical importance to people experiencing homelessness and that libraries can make a difference. It is such a noble program and made me proud of Winston-Salem. We might want to invite Elizabeth to a future staff meeting to talk about it.
One of the best programs was one on diversity residencies at Penn State, Tennessee, and UNC-Greensboro. One of my biggest regrets at ZSR was not being able to establish a diversity residency. Some of their observations are that a cohort of 2 or 3 is better than a single person and that two years is better than one. Collaborative relationships and strong mentoring are key.
I also met up with former colleagues and friends from around the country. In an amazing coincidence, two of them chose the same restaurant for dinner on consecutive nights. There must be a thousand restaurants in Vegas and I had dinner at the same place Saturday and Sunday nights! View on the walk home: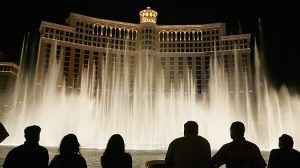 And thus ends my ALA career!