Early this year, when the Staff Development Committee put out a survey about what people were interested in covering this year, and one topic people had a lot of interest in was stress management. The committee discussed strategies for how to provide programming in this area and decided to hold two stress management programs (one per semester) and a de-stress party between semesters.
The first session on stress management was lead by Tami Colvin from Forsyth Tech. (She also happened to know a number of us from the Bookmarks Book Festival!) Tami's session focused on identifying stress and stress reactions, and a few techniques to deal with stress once you're experiencing it. We did a little yoga in our chairs and she worked with us on a guided meditation. Cristina has handouts if you're interested in any of the material she covered with us.
Yesterday was our de-stress party. We had two Wiis, refreshments, and cookie decorating in the old microtext room. The Wiis were in use for the entire party, ranging from fencing to archery to guitar hero.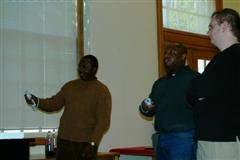 Cookie decorating proved a fun activity as well, with many cookies decorated and consumed!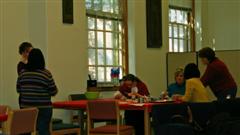 Cristina organized a contest for cookie decoration and provide a prize, which Molly Keener won for her decoration of a bell cookie.
All in all, it was a fun event to spend some time together and de-stress a bit between semesters. Though, as Heather pointed out, some of the Wii games might have been stressful in their own right. 🙂
A BIG thanks is owed to Cristina. She organized both events. She contacted Tami to invite her for our stress management workshop and coordinated the events of the de-stress party. Several folks pitched in to make sure the de-stress party was fun for all. Barry, Steve, and Patti brought in Wii components for the games. Cristina provided the refreshments of pineapple cake, black bean hummus, salsa, and chips. Kaeley provided ingredients for frosting. Ellen Makaravage made the cookies and frosting for the cookie decorating program (as well as taught many of us how to frost cookies artistically!!). Chris, Travis, Barry and the Staff Development committee set up the event. Thanks for a fun morning, all!
We're still planning for another stress management workshop in the Spring semester. If you have any other requests for the Staff Development committee, please let us know!