I originally read about Visual Libraries in a news email for libraries in 2009 while a librarian at FCPL and gathered a group of librarians to see if we could emulate the project in the US. When our fledgling project started, I contacted Claire, who was an enthusiastic supporter of our efforts. Fast-forward one year — FCPL has 36 Leave Your Mark books, Claire and Maureen are visiting Winston-Salem, and we are investigating the possibility of making Leave Your Mark into a collaborative project between FCPL and WFU!
Candace Brennan, a reference librarian at Central Library downtown, took over the project and has been promoting it widely in the community. She hosted our friends from Portsmouth and invited us at ZSR to host a workshop, which took place in the Rare Book reading room. The visit was featured in the Winston-Salem Journal!
Claire and Maureen demonstrated how their project started as a small idea and expanded into a community asset, incorporating faculty, students, and the community at large. They have over 230 blank art journals circulating in Portsmouth! Our group was then invited to add our own art to the FCPL and Portsmouth art journals in order to get a taste of the Visual Libraries/Leave Your Mark experience.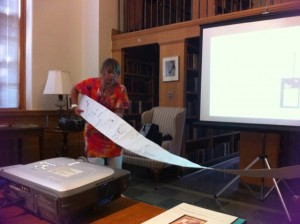 Many thanks to the library faculty, staff, and students who were able to attend. We are meeting with Candace to discuss expanding Leave Your Mark to include the WFU community!