Did you know that ZSR Library has had a Flickr account for almost 4 years now? We have uploaded over 3,600 images, organized them into 160 sets and 21 collections! We have hundreds of tags to help find specific images (see the top 150 tags below) and our images have been viewed over 107,850 times.
Because the collection is getting so substantial, a little further cleanup and organization was in order. You will see that there are now 6 main categories: ZSR Year by Year, ZSR Events, ZSR Collections and Exhibits,ZSR Faculty and Staff, ZSR Library Facilities and a new Favorites. As Kevin and others work with projects such as the Annual Report, they need to be able to easily find images that canbe used in marketing and publications. So the new "Favorites" category has subcategories for events, people and the building.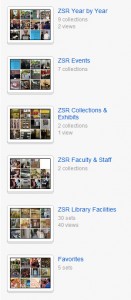 To help our Flickr collection be as useful and usable as possible, remember these few things:
Only publicly post pictures that document events that pertain to the library and the library's participation in larger university events, and that document faculty/staff activities that are related to our roles (ie someone giving a presentation at a conference). Otherwise, make the images private (or family only).
Be selective, think of this as an exhibit, not an exhaustive repository of every picture you take.
As you post images, remember to put them into a set/collection.
Make sure your camera has the right date and take a large enough resolution image to be a print quality.
Tag them appropriately and include "zsr library" "z. smith reynolds library" and "wake forest university" on any images that have subject matter that takes place here.
If you take a FABULOUS image that you know would be great for future use, add it into one of the "favorites" collections!
Have fun helping us document all the great things we do to help our students, faculty, and staff succeed!