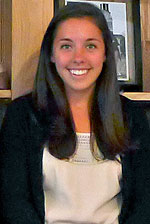 The Wake Forest Fellows program is now entering its sixth year. It was established by the President's Office in 2008 to provide recent WFU graduates with an opportunity to work in higher education administration for a year. ZSR will participate this year for the first time.
ZSR welcomed Fellow Lauren Suffoletto to the library in June with great anticipation. Lauren graduated in May with a BA in History and a minor in Politics and International Affairs. Lauren, who hails from Massachusetts, brings a broad range of academic and work experiences that fit perfectly with her new responsibilities here at ZSR. Lauren is working with many special projects, including video initiatives, ZSRx, various annual student and faculty events and the United Way campaign.
Most importantly, Lauren also acts as a liaison between current WFU students and library faculty/staff. As a recent graduate, she can offer valuable perspectives that help shape services and programs to better support the ZSR mission to ensure student success.