Following the birth of the idea, the logistics became the problematic part of planning. We had to decide the best way to organize the game in a way that allowed players to remain with their group and still have the agency to control the progress of their game. It was decided that the players would be able to move together along a circuit with a ZSR Ambassador serving as a game host to manage the progress of the group. We created a route by deciding what path the players should take from one "room" to the next. We even planned for secret passageways!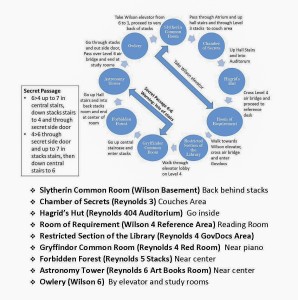 Beyond the actual game, we wanted to make the experience magical for the players and what better way to incorporate the theme than by decorating each room? We had a decorations committee meeting to brainstorm and paint the posters. Our theme was Harry Potter, so the rooms, weapons, and characters were all taken from that fandom. We decided to do a decoration for each room that we used.
The Owlery, for example, had a sign that alerted the participants to what room it was and many cut-out owls that we spread throughout the area. Additional decorations included Slytherin "graffiti" in the elevator that went to the basement and a Honeydukes sign in the secret passageway. We also had posters printed for each character, reminiscent of the character cards that come with the board game. These had a picture of the character, a one-line bio, their motive, and their favorite spell. To round out the experience, we provided homemade butterbeer and assorted cookies.
The event went spectacularly well as we exceeded our 30 person goal. We pre-registered 36 participants as either teams or individuals and had four walk-in participants, which was wonderful! Overall, 34 people ended up participating. As players arrived and checked in, they were offered homemade butterbeer and assorted cookies while waiting to be assigned to their game hosts (a sorting of sorts). Following this, the groups were sent on their way! It was very cheery to hear the giggles and excited voices of the different teams as they walked around the library with the soundtrack from the Harry Potter movies playing in the background.
Hopefully, this event can continue to evolve and become a cherished Wake Forest tradition similar to Humans vs Zombies. Next year, we vote for Clue: Game of Thrones edition, but that's just a suggestion!
*More pictures of the event are available on the ZSR Flickr site.