Many of the new WTL additions this semester were facilitated by the ZSR Library Ambassadors, University Police, and the Advancement Office. The ZSR library Ambassadors gave out Arnold Palmers, ice cream, and candy to students studying around the library, and consistently replenished the relaxation station. In addition to free candy and food, the ZSR Ambassadors posted over 300 tearable puns and compliments around the library for students to stay encouraged. Midway through exam week, University Police decided to give away Krispy Kreme doughnuts to students in their efforts to continually establish trust among students. During that same time, Advancement's alumni office supported our WTL efforts by bringing therapy dogs for students to take a quick study break to enjoy.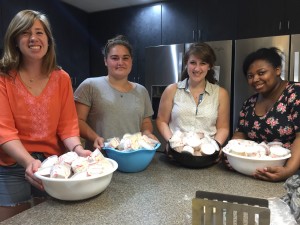 Overall, I cannot be happier with the way WTL turned out this semester. Special thanks goes to ZSR Ambassadors president and vice presidents Heidi Gall ('15) and Madison Cairo ('15) who helped organize the ZSR Ambassadors efforts, the WTL committee and volunteers for making the midnight experience a success, and Meghan Webb and Christian Burris for marketing each event. I could not have asked for a better final project as the ZSR fellow.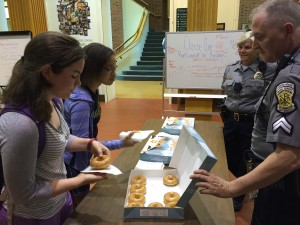 WTL photos are posted on the ZSR library Flickr site.