100% of respondents either agreed or strongly agreed with the statement "The help I received in this session made or will make my research paper or project better." They cited a variety of ways their session helped them including:
Finding more sources for my work
The librarian I worked with was extremely helpful and directed me toward invaluable resources.
Helped me understand how to navigate the ZSR website better
Before this I had no idea how to even start research.
More statistics that I could not find
I have better and more credible sources.
I had no idea where to look to find the transcripts for a trial that I wanted to cite. The librarian not only helped me locate this exact source, but she showed me how to access different primary source databases that I had never heard of before.
I am more confident of the sources i found
Perhaps the most gratifying statistic was that the students who participated in these sessions would come back and would recommend the service to a friend!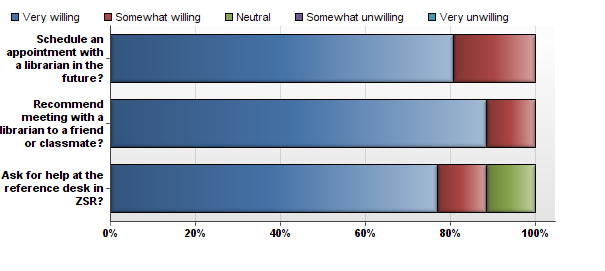 We will leave you with some of the great comments students had about the service! The full report will be up on the ZSR Library Assessment web page soon.
The most useful thing was how the librarian made me feel during our meeting. Not only did she help put me on the right research track, she also instilled a great amount of confidence in me by listening to my ideas and helping me shape them. Her enthusiasm for my project made me even more enthusiastic!
I was unsure and not confident about my topic, and the meeting helped me find sources and feel more sure about the paper.
I not only received the sources I needed, but I also received directions on how to access databases on my own.