On April 22, David Link, Library Specialist with the ZSR Access Services Department, was recognized as a Champion of Change during the 2016 WFU Campus Sustainability Awards for his leadership and involvement with introducing bees to WFU Campus Garden.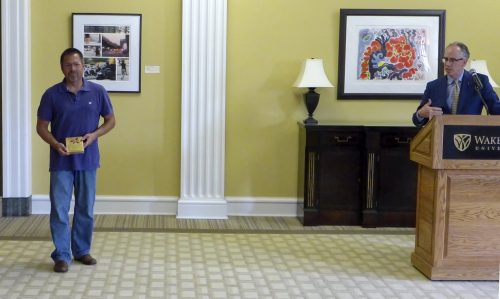 In February, 2016, David provided two colonies of Russian Honey bees (known as Russian and Russian Carniolan) to the Campus Garden to provide a sustainable way to keep honey bees without chemical inputs.  The interns at Campus Garden were just beginning to look into managing the hives themselves when David stepped forward and agreed to take on this responsibility. David has also agreed to offer beekeeping tutorials over the summer and will train Campus Garden interns about proper management of the hives in classes held during Campus Garden hours, as well.
David has been a longtime advocate for beekeeping, and promoting bees that do not need any chemical assistance to protect them from Varroa mites (one of the causes of colony collapse). David's commitment to keeping sustainable bees, and his willingness to share both his bees and his wealth of knowledge make him an excellent recipient of this year's Champions of Change Award.
Congratulations David and thank you for your efforts to promote sustainability on campus!