In 2015-2016, WFU participated in the Innovations in Scholarly Communication survey developed at Utrecht University. This instrument assessed tool usage across 17 research activities in the scholarly communication cycle. The local and international results are now available for analysis.
Over nine months, the survey collected 20,663 responses. Responses came from 151 different countries, and the survey was administered in seven languages. Wake Forest was one of over 100 institutional partners to distribute the survey directly to local stakeholders via a custom URL. Sixty-two faculty at Wake Forest responded. This represents a 7.62% response rate for all Reynolda campus faculty (783 full- and part-time teaching faculty; 31 library faculty). Excluding library faculty, and using FTE rather than individuals, the response rate was 9.19% (53 responses, 576.5 FTE; Source: WFU Fact Book). Faculty across all disciplines responded: 42.5% STEM, 30.1% Social Sciences & Economics, and 27.4% Arts & Humanities. Half of all respondents have been actively publishing since 2000 or before.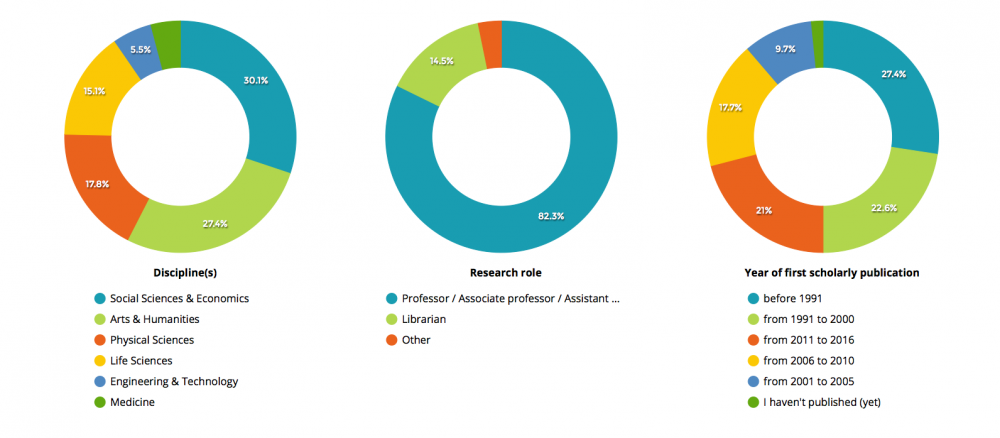 Highlights and key points from Wake Forest faculty include:
76.3% support Open Access
Discovery (searching, accessing, annotating)

34.2% report using Google Scholar to discover research
59 of 60 report using library institutional subscriptions to access full text
Other popular access methods include emailing the author, using the Open Access Button tool, and social sharing sites
Web of Science is the most popular library subscription service

Analysis & Writing

46 different tools are used for data analysis
Dropbox is most heavily used for sharing lab notebooks/protocols/workbooks
Microsoft Word and Google Drive account for 79.1% of writing tools used
Zotero and EndNote account for 68.3% of reference management tools used

Sharing & Publishing

Of the 41 respondents who reported sharing their publications, 52.8% use Open Access repositories (institutional and disciplinary)
Of the 47 respondents who reported on publication venues, 33.3% publish in Open Access journals, across all disciplines and career stages

Outreach & Assessment

Twitter, blogging and social sharing are the primary means of sharing research beyond the academy
Impact is measured in lots of ways, but using tools built into the Web of Science platform and the Journal Citation Reports remains popular, despite limitations
To better facilitate in-depth analysis of the survey results, Scholarly Communication Librarian Molly Keener has uploaded the local data to an interactive Silk.co dashboard. You can filter results by discipline, research role and career stage. Please note that not all respondents answered each question, so distributions will vary. Also, the "Explore" tab at the top will allow you to conduct your own detailed analysis. When you finish exploring the local responses, take a look at the results of the worldwide Innovations in Scholarly Communication dashboard.
For additional information, please contact Molly Keener.