Z. Smith Reynolds Library faculty and staff gathered on May 19 to take a moment to recognize a job well done for the 2016-17 academic year during the annual Employee Recognition Luncheon. The highlight of the event was the announcement of the recipients of the Outstanding Staff Employee of the Year, and Outstanding Faculty Employee of the Year awards.
The program was organized by ZSR's Employee Recognition Committee and held on campus at Reynolda Hall in the Magnolia Room. Tim Pyatt, dean of the library, hosted the program and presented the awards, which are determined based on the nominations of ZSR library faculty and staff. There were four nominees for the faculty award, and one nominee for the staff award.
Faculty nominees:
Steve Kelly—Head of Continuing Resources & Database Management
Rebecca Peterson May—Public Services Archivist
Amanda Foster—Teaching Librarian
Kevin Gilbertson—Web Services Librarian
Faculty award nominees were listed on the program. However, since there was only one staff nominee, their name was intentionally not listed on the program to build suspense.
The faculty award was presented to Rebecca Peterson May, who in part was described by one of her nominators as having "commitment, energy, and a willingness to explore new methods of public service for ZSR's Special Collections & Archives."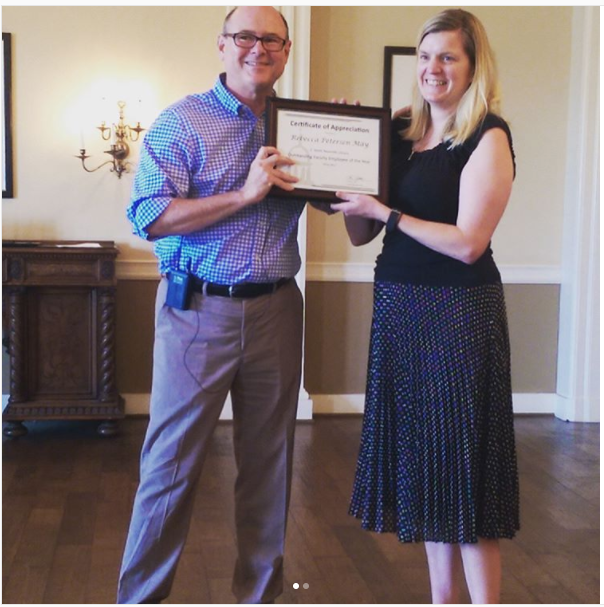 The staff award was presented to Barry Davis, ZSR's Multimedia & Digital Production Services Coordinator. As one of his nominators explained, Barry is "completely unflappable and is always able to repair the problem, or find an alternate solution to the satisfaction of everyone involved."  Barry also plays the leading role in providing audiovisual support to several library events, including last week's Employee Recognition Luncheon.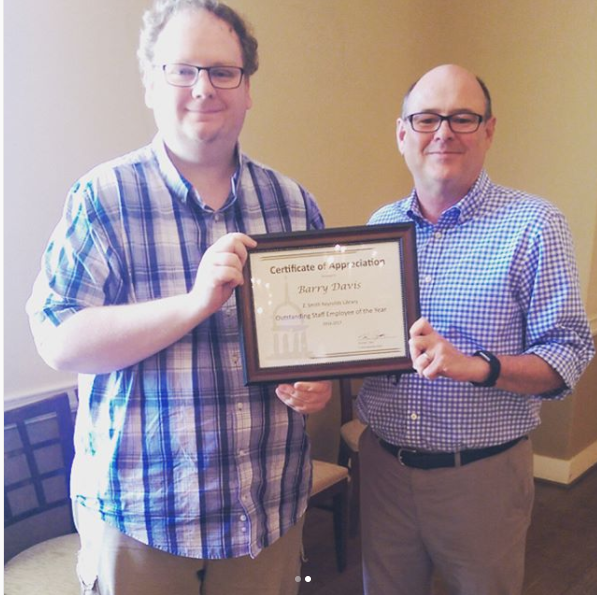 Both award recipients received a specially designed certificate, a permanent acknowledgement on an Outstanding Employee of the Year plaque, and $1,000.
The annual Student Employee of the Year award was also noted at the event, which was awarded to Kelli Johnson on April 27 during the library's Student Assistant Appreciation Pizza and Salad Party. Kelli received a certificate and $250.