So many people arrived to take part in the workshop that extra chairs had to be brought into the new classroom 477. People listened to Richwine explain how thank you notes can professionally give you a competitive advantage, but also why practicing gratitude is an easy gesture that can make a big difference in personal relationships.
OPCD Fellow, Sarah Hoyle, could not have picked a better time of the year to host the event. Students are interviewing for summer internships and jobs after graduation, and had questions about thank you note etiquette. All participants seemed to arrive with a question. The ones that seemed to get the most concern: "Do I send an email thank you note and a hand written one?" (Richwine says: Yes, get credit twice!), "How do I find the addresses to mail thank you notes?" (Richwine reminds us: Always ask for a business card at the end of the interview, this will have all contact information), and finally, "Can you overdo it with a thank you note?" (Richwine emphasizes the best thank you notes are short and specific, why you are grateful and why that person made a difference).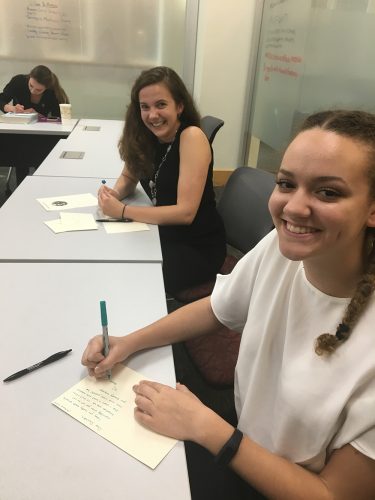 At the end of the workshop, Jennifer Richwine asked all participants to use the provided stationery and stamps to write a note to someone that had helped them in their Wake Forest University experience. Students stayed to ask further questions, and everyone enjoyed the mix of notecards offered.