We are excited to announce the opening of the Scholars Commons on the 4th floor of the Reynolds Wing of ZSR Library. Although not entirely complete, the Scholars Commons is open for use by all students, staff, and faculty. The space has been closed all summer and the first few weeks of the Fall semester for a very good reason- to make it better for you! This new and improved space could not have been made possible without the generous gift of ZSR Council of Advocates members John Cooper ('72, MA '73) and Lynne Eickholt ('74). We thank you.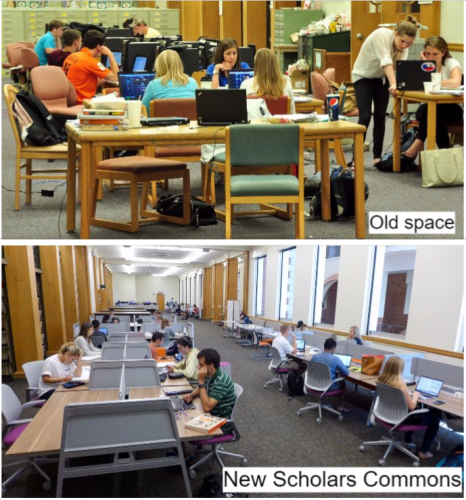 Here are a few of the enhancements (with furniture deliveries to be made in the future):
New Scholars Commons Enhancements
More seating!

The new Scholars Commons seats over 100 people, whereas the previous space maxed out at 60.

It's electric! (boogie-woogie)

The furniture is wired, meaning you don't have to struggle to find an outlet. You will be able to plug your devices into the tables with ease.

Write on the furniture!

When finished, there will be 22 marker board tables for you to collaborate, doodle, and enjoy.

Desktop computers!

There are 28 desktop computer stations available – a mixture of Mac and PC.

Stand, sit, or get comfy!

There are multiple seating (and standing) options in the Scholars Commons. Not all of the chairs have been delivered yet, but you will be sure to find the right seat for you.
We are so happy with how it looks, and it isn't even done yet. As additional furniture is delivered, the space will only get better.
So, all you Scholars out there, tell your friends about your new favorite study spot!