Chris Burris with Tim Pyatt, Dean of the Library
Congratulations to all our 2019 ZSR award winners!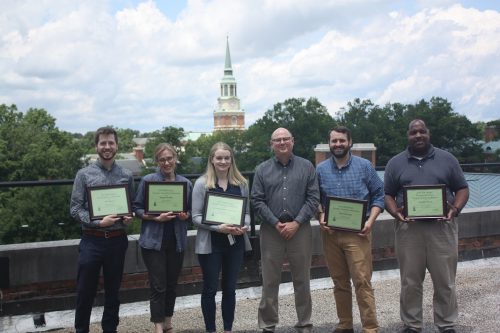 ZSR Employees celebrating milestones in the 2018-19 academic year include:
Chris Burris: 25 years
Kaeley McMahan: 20 years
Charles Bombeld: 20 years
Peter Romanov: 20 years
Jeff Eller: 5 years
Amanda Foster-Kaufman: 5 years
Monesha Staton-Fluker: 5 years
Meghan Webb: 5 years
We also want to acknowledge our Student Employee of the Year. Nine nominations were received for this award which was presented at the ZSR Student Assistant Appreciation Pizza Party held on May 2nd. Nominees were Eva Little (2 nominations), Hannah Goodwin (3 nominations), Maia Kennedy, Anna Hathcock, Anna Grace Guercio, and Luke Klingstedt. Our winner was Hannah Goodwin, a student assistant on the Reference team.
The Employee Recognition Committee (Charles Bombeld, Will Clarke, Craig Fansler, Joy Gambill, and Ellen Makaravage) would like to thank all the employees of ZSR for their poll feedback and nominations. Their input was vital in structuring the awards program this year and the enthusiastic response will help guide next year's committee.