On Thursday, May 23 the staff and faculty of the ZSR Library gathered in the Magnolia Room in Reynolda Hall for an Employee Recognition Luncheon to reflect on the previous year's accomplishments and highlight some outstanding employees. We also honored ZSR employees who are celebrating significant milestones.  Awards were presented by Tim Pyatt, Dean of the Library.
Following through on the results of a ZSR-wide poll, the award categories were expanded to include an Unsung Hero award and new Dynamic awards with a flexible category designation. Awards also included the ZSR Outstanding Faculty of the Year award and the ZSR Outstanding Staff of the Year award. There were a total of 30 nominations submitted for consideration.
The faculty Employee of the Year nominees were Alice Eng, Amanda Foster-Kaufman, Kevin Gilbertson, Sarah Jeong, Kathy Shields, and Hu Womack. And the winner is….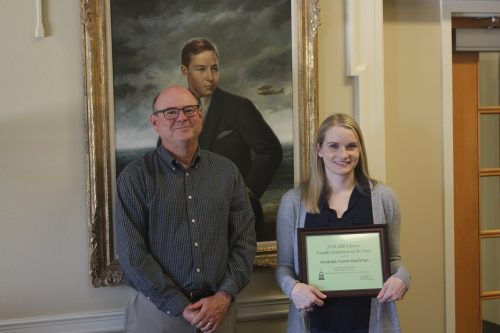 Amanda's nomination included praise for her, "inspiring focus on integrating student-written Wikipedia articles into her classes" and highlighted that "her desire to teach in innovative, even risky ways has ensured that the LIB100 program has remained fresh and relevant to our students."
The staff Employee of the Year nominees were Chris Burris (2 nominations), Linda Ziglar, Prentice Armstrong and Jon Moore (4 nominations). The winner is….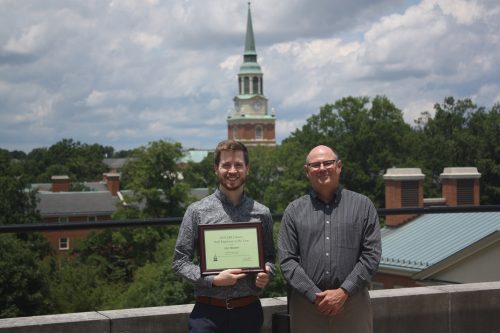 Among the nomination comments received, Jon was nominated for his "behind the scenes" changes in the Reference Department and his student training program. One nomination praised, "his passion for his job, his innovative and positive attitude and his relationships with students and colleagues."
The newly reinstituted Unsung Hero award received 10 nominations: Mika Payden Travers, Jon Moore, Bob Hebert, Renee Berry, Alice Eng, David Link, Kathy Martlock, Sarah Jeong, Doris Jones, and Kevin Gilbertson. And our winner is…Kathy Martlock (not pictured)!
The Dynamic award nominations included, Amanda Foster-Kaufman (for Instruction and Innovation), Kyle Denlinger (for Innovation), Megan Mulder (for Instruction), Chris Burris (for Integrity and Mutual Respect) and Joy Gambill (2 nominations for Inclusion and Diversity).  Three winners were selected and they are…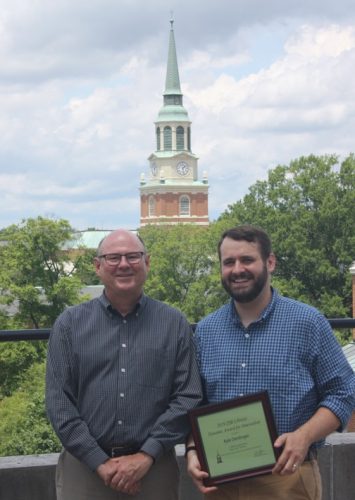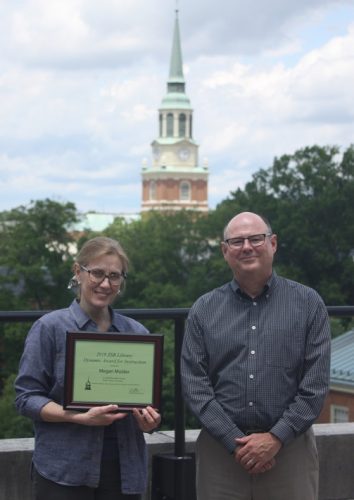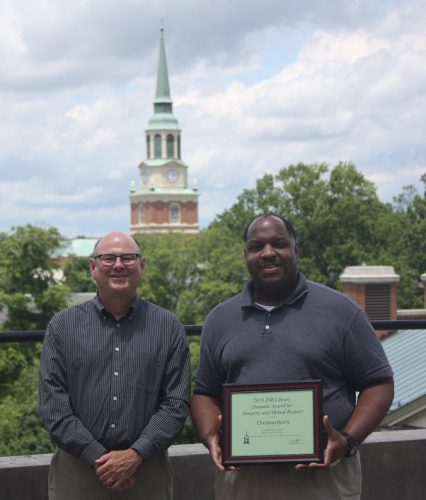 Chris Burris with Tim Pyatt, Dean of the Library
Congratulations to all our 2019 ZSR award winners!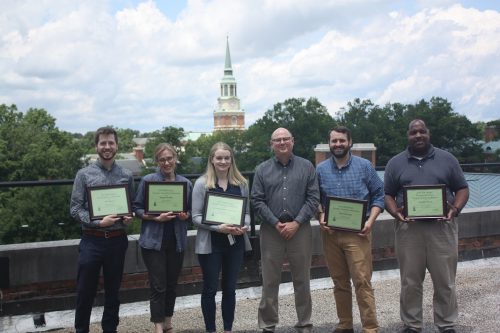 ZSR Employees celebrating milestones in the 2018-19 academic year include:
Chris Burris: 25 years
Kaeley McMahan: 20 years
Charles Bombeld: 20 years
Peter Romanov: 20 years
Jeff Eller: 5 years
Amanda Foster-Kaufman: 5 years
Monesha Staton-Fluker: 5 years
Meghan Webb: 5 years
We also want to acknowledge our Student Employee of the Year. Nine nominations were received for this award which was presented at the ZSR Student Assistant Appreciation Pizza Party held on May 2nd. Nominees were Eva Little (2 nominations), Hannah Goodwin (3 nominations), Maia Kennedy, Anna Hathcock, Anna Grace Guercio, and Luke Klingstedt. Our winner was Hannah Goodwin, a student assistant on the Reference team.
The Employee Recognition Committee (Charles Bombeld, Will Clarke, Craig Fansler, Joy Gambill, and Ellen Makaravage) would like to thank all the employees of ZSR for their poll feedback and nominations. Their input was vital in structuring the awards program this year and the enthusiastic response will help guide next year's committee.