The Lynn Book project is a multi-year collaboration that aims to digitize artifacts from four decades of live performances and make them freely available via Omeka, a web-publishing platform designed for media-rich online exhibits. In its current iteration, the site serves as a digital archive, and plans for future development include the potential for audiences to interact with and remix the material.
In order to create the digital archive and to anticipate and allow for future phases of development, ZSR's Digital Initiatives team had to accommodate the project's current and future media storage needs. Gorgeous Fever, the Lynn Book Project  pilot collection, contains just over 1GB of image and audio files, which means that in its current iteration, we already maxed out the available storage space that Omeka provides!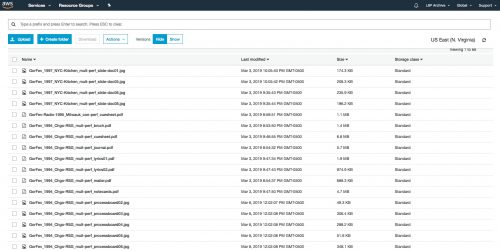 Our solution was cloud storage, specifically Amazon AWS S3 storage, which allows for tiered pricing based on usage, storage, and bandwidth. Omeka also allows for the integration of AWS within the config file as a self-hosted option for storage. Following some basic instructions, we were able to setup a "bucket" within Lynn's personal AWS account and direct Omeka to both store to and pull from the account. This meant that when we did a batch upload of all the items into Omeka, we supplied a spreadsheet of all the items and their metadata with individual links to items in AWS and Omeka pulled the images from the server to populate the database. What was once a barrier became a great learning opportunity for what cloud storage has to offer multimedia heavy digital humanities projects.
We're excited to see this project continue to expand with more performances and more media. Please join us for Performing the Archive, a salon screening, at ZSR Library Auditorium, Room 404 on April 2, 2019  from 5-6:30 p.m. to hear more about the performance, both of the archival process and the art itself.