Special Collections and Archives was pleased to host a graduate student from University of North Carolina at Greensboro over their spring break, something we've been able to do the past few years. This year, Damiana Fortenberry worked with Public Services Archivist Rebecca May and Preservation Library Craig Fansler across the week. Here's more about her time here in her own words: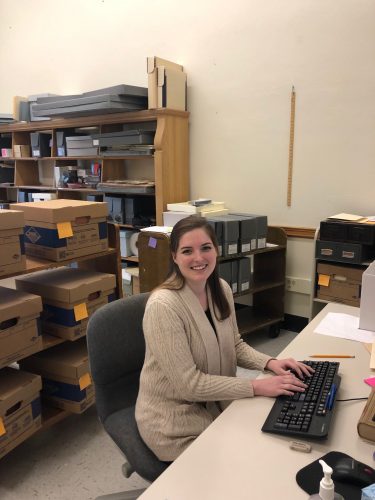 Hi! I am Damiana Fortenberry – pronouned Dah-mee-anne-uh, for those of you wondering. I have an undergraduate degree in English and Literature from the University of West Florida and am currently in my last year getting my MLIS from UNCG. I've spent a lot of my graduate career learning about academic libraries and health sciences, so while I had an interest in special libraries I had never really considered archiving and preservation as a career path. Despite that, I'm so grateful to have had the opportunity to spend a week at Wake Forest University to really delve into what archivists and preservationists do.
During my time at WFU, I worked on processing – organizing and listing – the William Hamson Williams collection, which was a collection of sermons and personal papers from a former pastor. It was a great chance for me to learn the technical experience of archiving really delicate documents, and was also a rather touching reminder that archivists don't just save old documents, they preserve the memories and lives of those who came before us. My favorite document was one sermon that talked about the recent Titanic tragedy and offered hope for the future despite how awful that event was. I also had the chance to learn book repair and preservation, which was equally amazing and is something I will definitely be doing in the future. It was just that awesome.
Being in the academic environment at Wake Forest University was eye-opening and really gave me the opportunity to see how all the pieces that make up an academic library run together smoothly. I loved being able to see the concepts I've spent my time at UNCG learning about be applied right in front of me, with a chance to ask questions and get some experience.
During my time at Wake Forest, I also toured the Wake Forest School of Medicine, the Bowman Gray Center for Medical Education, the Department of Engineering in Wake Downtown, and Forsyth County's Central Library. Every space was beautiful, and every professional I met along the way was incredibly helpful and excited to show me everything they were doing. It was a great week and I'm so grateful to all the people I met during my time at Wake Forest University – thank you!