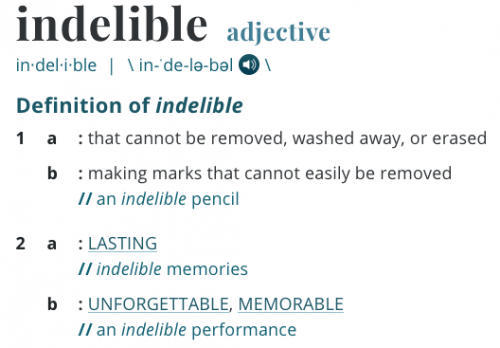 Img source: merriam-webster.com
When approaching a project that aims to create a digital exhibit of an artist's live performances, it's important to think about where the project exists within the broader scholarly conversation on performing arts archives. Writers such as Carolyn Steedman (Dust) and Diana Taylor (The Archive and the Repertoire) have explored the role that both live performance and historical documentation play in conveying cultural knowledge. Ethnography of performance, a sub-field of performance studies, focuses on methods of documenting live artistic works. According to some scholars, live works can never be completely captured, documented, or represented. Documentation has nevertheless become a critical part of the process for theater productions, dance, and performance art, and constitutes a point of intersection between performance and formal archives.  Matthew Reason has written that, rather than live works vanishing without a trace, their "disappearance and documentation seem to go hand in hand" (2003, p. 82).
The Lynn Book Project aims to re-present documentary traces of live art in a digital space, collecting and digitizing materials that have never been part of a formal archival collection. The project's raw materials include a diverse array of films, cassette tapes, photographs, flyers, books, and other material traces from WFU faculty member Lynn Book's live performances. Digitized and published in a cohesive Omeka exhibit – still very much in its experimental "pilot" phase –  these materials are being reimagined within a holistic narrative.
Part of the magic of an artist documentation project is to help visitors to the digital collection understand the artist's work as a whole, as something that is greater than – yet completely dependent upon – its digital parts. In order to convey and represent the original performances, the project team has organized, named, described, uploaded, and made accessible performances that no longer exist except as documentation. The team's work throughout this project has included the decidedly unglamorous minutia of designing digitization workflows, naming files, determining how to store and protect terabytes of digital video, creating cloud storage accounts, wrestling with Omeka-YouTube connections, navigating web design decisions, exploring metadata options, creating contextual documentation, and converting legacy media objects to modern formats.
The story these digital objects tell is driven by the art itself, and the project is built both from living memories (Lynn's) and newly-created, machine-readable representations of time-bound events. Scholars Clarke and Warren argue that, rather than representing stasis or decay, an archival object performs: "it does something, carries something of the work's affects. The document that is not separated from the event is 'a performance of duration.' It remains live through research, review, re-use, remediation, re-performance and re-enactment, circulating and re-circulating in the cultural scene." (2009, p. 59).  The digital archive is in many ways a dynamic and performing archive crafted from the building blocks of the original artifacts. Performing the Archive's live salon event, scheduled for April 2nd at ZSR, is yet another performative layer. Together, all of these representative elements comprise a new performance that narrates Lynn Book's work and her original stage appearances, explores the process behind developing her live pieces, and documents her career in the arts. In the end, a digital archive is never equivalent to the original, live performances, but it is deeply enmeshed in them. Living memories and digital traces can be performed anew and shared with new audiences, indelibly.
Works mentioned
Clarke, P. and Warren, J. (2009). Ephemera: Between Archival Objects and Events. Journal of the Society of Archivists, 30(1), 45-66.
Reason, M. (2003). Archive or Memory? The Detritus of Live Performance. New Theater Quarterly 19(1), 82-89.
Steedman, C. (2002). Dust: The archive and cultural history. Rutgers University Press.
Taylor, D. (2003). The archive and the repertoire. Duke University Press.