Welcome back to another installment of 5 Questions! If you would like to choose 5 Questions yourself, feel free to choose 5 from this form.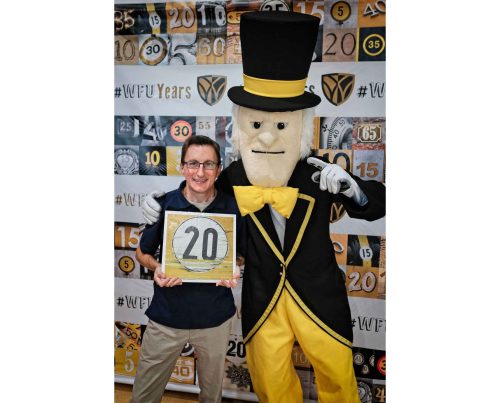 Peter Romanov, Library Specialist III
Tell us about what you do at ZSR Library?
Supervise students, manage student hiring and payroll, and answer patron questions.
What is your favorite book/podcast/movie?
Favorite Book: The Stranger. Favorite Podcast: This American Life. Favorite Movie: Jackie Brown
What is your favorite library story? (or memorable experience?)
When Coach Dave Clawson came into the library on his first day at Wake. The Deacon brought him in and I posed for a picture with him and afterwards listened to him give a really thoughtful and inspiring speech to all the students in the library.
How did you start working in libraries?
I was working at a marketing research company at the time. I saw an advertisement in the newspaper for a library stacks supervisor position. When I was a college student, I spent a lot of time at the High Point University library. I really loved the comforting energy of the place and the warmth of the librarians. I was in need of a career change and I thought I would give it a try.
What is something we can't know by looking at you?
I never learned how to swim.