Please join us on August 4th at 4:00 PM ET to discuss Phoebe Zerwick's Beyond Innocence: The Life Sentence of Darryl Hunt.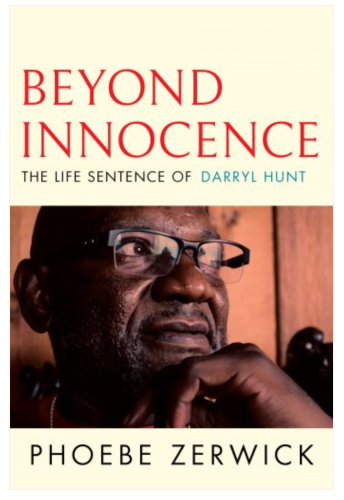 This highly readable book tells the powerful story of Darryl Hunt's wrongful incarceration, the struggles to prove his innocence, and the challenges he faced after being released and proved innocent. Zerwick shares Hunt's life story while also exposing the lasting radical injustice embedded in our legal system – from prosecution to incarceration. After his release Hunt worked to help correct the system and advocate for those who had been imprisoned to have a better return to life after release. Ultimately the weight of the systematic racism and inhumanity he endured as well as the expectations of his unsought celebrity proved too much and he committed suicide. Hunt was a native of Winston-Salem and WFU Law professor Mark Rabil led his defense team. Zerwick's 2003 series of articles about Hunt in the Winston-Salem Journal helped bring about Hunt's release and proof of innocence. Zerwick is also a member of WFU faculty and will be joining the discussion.
The discussion will be led by ZSR Board of Visitors chair, Shannon Bothwell and ZSR's Director of Digital Initiatives and Scholarly Communication, Molly Keener. We hope you can join us on Zoom.