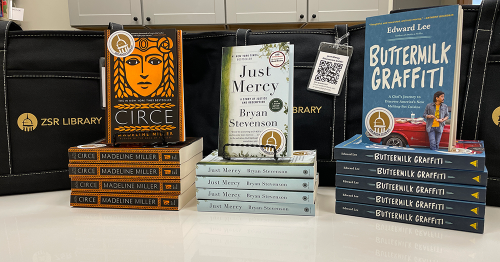 ZSR Book Club Kits
Want to start a book club? We've made it easier for you with ZSR Book Club Kits! Each kit comes in a canvas tote bag and includes 10-12 paperback copies of popular fiction and nonfiction titles and access to an online discussion guide and additional resources, such as author interviews and suggested read-alikes. The loan period for book club kits is 1 month and the kits can be renewed for an additional month if needed.
This program reflects our continued efforts to support our community of readers, and provide resources and opportunities that connect students, faculty, and staff to information, each other, and the wider world.
Available Titles
Currently, our Book Club Kits include the following titles:
We hope to grow this collection and include more kits in the future. If you have a title that you would like to recommend for a book club kit, please share your feedback using this online form.
How do I check out a Book Club Kit?
Once you find the kit that you want to check out, complete and submit the Book Club Kit reservation form located on the item record. You will be notified by a ZSR staff member to confirm your book club kit reservation and pick up time.
Happy Reading!