As a student, staff and/or faculty member of Wake Forest University, you have access to a resource called IBISWorld. If your work exists outside of business or entrepreneurship you're likely to have never heard of it or been asked to use it before, but we're here to let you know that it is a very simple to use resource that can open you up to a world of information when doing research on particular career paths, companies, industries and/or when preparing for job interviews. Here is how to get started with IBISWorld:
Once you log in, which only requires you to press the link, you choose your own adventure:
Search option 1:

Research a particular company. It's important to keep in mind that IBISWorld is really best suited to help you research

public companies

. If the company you're hoping to research is a private company, one approach would be to think of a publicly traded competitor of that company, or the industry that company is in, to help you gain broader insights to apply. For example, if you have an interview with local private company Winston Salem company, Garner Foods, if you type that private company name into the search bar, IBISWorld will suggest that you look at the hot sauce industry report. Within that report, you will find details on major publicly traded players (competition) in the hot sauce industry in the 'At a Glance' section as well as the 'Companies' section of the report. *If you'd like to do a deep dive into a private company, check out our recent blog post on

how to use our Pitchbook subscription

to do so.
Search option 2:

Research a particular

industry.

You'll just need to enter search terms that describe the industry into the search bar and select the most relevant industry report from the search results list. It's okay if you don't know the industry's 'official' name, just use whatever words come to mind to describe the activity that companies in the industry do.
Search option 3:

Don't know exactly what you're looking for? That's okay! Just browse the trending reports on the main page that are suggested by IBISWorld or use the Industries drop-down in the top navigation bar to see a list of classifications for industries.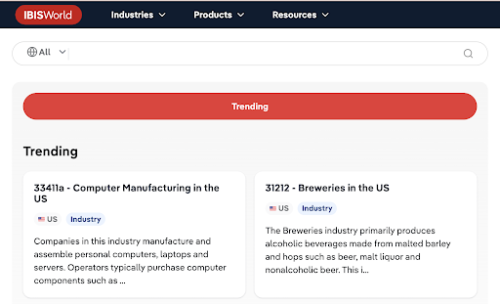 Once you've entered a report of interest:
Some particularly helpful sections of the report for gaining relevant insights, would be the main page/section, called 'At a Glance'. Here you can browse highlights about the industry to help you decide what you want to learn more about.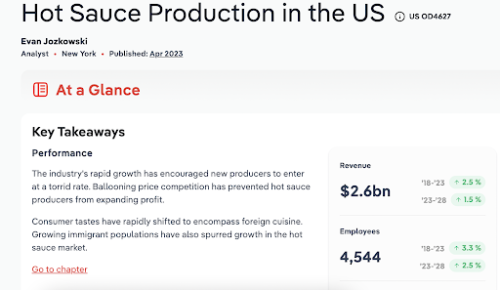 Other sections that will be helpful include:
In the geographic breakdown section of the report, you can learn more about the industry in particular geographical focus areas of interest to you.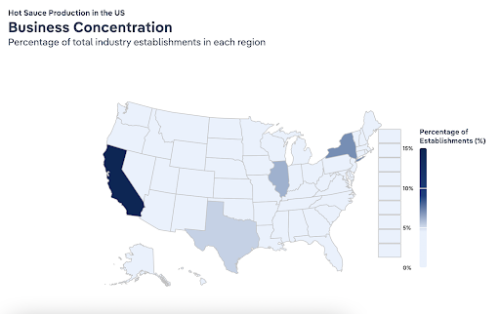 In the external environment section you can learn about what factors are affecting the industry and inform yourself about what the company and industry is going through and consider how that relates to the position you're interested in.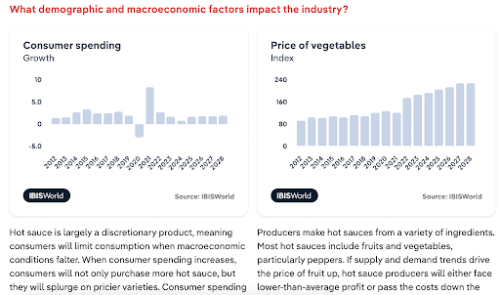 Last, but not least, is the section on call preparation questions. IBISWorld has prepared various role specific questions to help you prep for interviews! Don't sleep on this section of the report!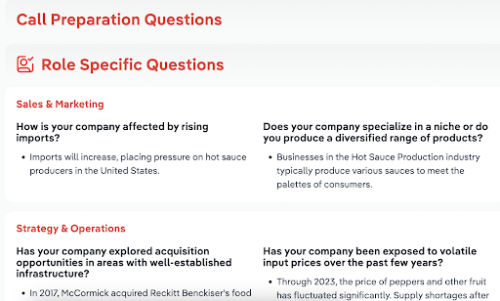 If you want to learn more about IBISWorld, other resources you have access to via ZSR to help or if you'd like to talk about career research, please reach out to a librarian!