On Tuesday, September 12, 2023, ZSR was buzzing with excitement and a spirit of unity as students, faculty, staff, and alumni came together to support our annual fund, Student Employee Scholarship, and Special Collections and Archives during the "Deacs Day of Giving." This day would not have been possible without the incredible collaboration with our partners in University Advancement. Their dedication and expertise played a pivotal role in orchestrating this successful event. We worked hand in hand to engage our alumni network, connect with potential donors, and provide valuable insights on fundraising strategies.
During the hours of 11:00 a.m. to 2:00 p.m., Daisha Bunn, Maddie Koontz, Joel Rivera, and Jemma Johnson set up tables outside of ZSR with donuts and WFU merch. This year's Deacs Day of Giving focused on the 1834 Student Campaign, where students are encouraged to "start their streak" of giving back. Students who donated received swag and seniors were provided exclusive incentives such as Tunnel & Bell Tower Tours as well as recognition cords for graduation.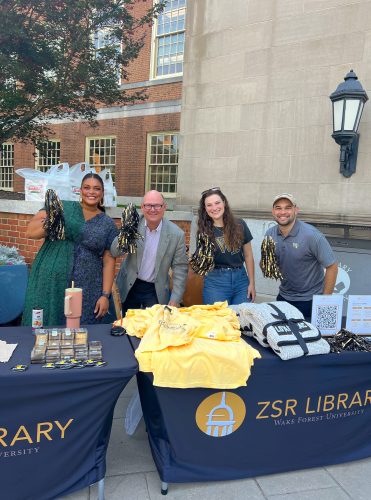 One of the standout achievements of this year's "Deacs Day of Giving" was the remarkable increase in the number of donors and the total funds raised. Going into this event, our number one goal was to increase our donor base. In 2023, ZSR managed to raise $12,833 from 137 generous donors. This is a significant leap from the previous year when there were 58 donors, and $8,261.90 was raised. These numbers speak volumes about the growing support and commitment to the library and its mission. ZSR ended the day coming 2nd overall in the university-wide Unit Challenge
We are deeply grateful for your generous support, which allows us to provide enhanced resources, improved services, and an even better learning environment for everyone who walks through its doors. Thank you for making a difference at ZSR Library. The increased funds raised will undoubtedly contribute to the continued excellence of Z. Smith Reynolds Library, ensuring that it remains a valuable resource for generations of Deacs to come.
We want to especially thank those who provided support in making this day a success.