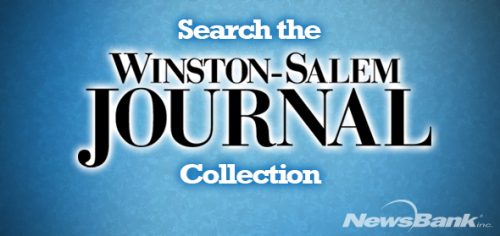 ZSR Library is pleased to announce that we now provide full, searchable access to both the Winston-Salem Journal (1898-present) and Twin City Sentinel (1906-1985) through the Winston-Salem Journal Current and Historical Archive from Newsbank.
This archive will benefit researchers and units across campus as they seek to learn more about the historical contexts of the university, the city, and the surrounding areas.
The Winston-Salem Journal has full page images from 1898-1997 and 2018-present. Access from 1997-2017 is text-only. The Twin City Sentinel has full-page images for the full run from 1906-1985, when the paper ceased being published as the afternoon newspaper for the city. The publications can be searched individually or in combination. The publications are also part of a larger database, America's News, that includes over 3000 U.S. news sources.
Access is available both on and off campus through the link provided on the ZSR Databases page. Please contact your library liaison or askzsr@wfu.edu with questions about how to use this resource or how to incorporate it into your courses.