This article has been reproduced in a new format and may be missing content or contain faulty links. Contact zsrweb@wfu.edu to report an issue.
Saturday, June 19 marked the final community workshop for the LSTA-funded "Preserving Forsyth's Past" project. The workshop was held at Malloy/Jordan East Winston Heritage Center, the newest digitization center location. Perhaps most rewarding of all was the fact that the workshop was taught entirely by FCPL staff. Around 11 people were in attendance.
Librarian Melodie Farnham from the North Carolina Room at Central Library taught about organization and preservation of archival materials. She incorporated many of the ideas that Craig and I taught about in previous workshops, and also shared our handouts that included worksheets and supply resources and archival guidelines.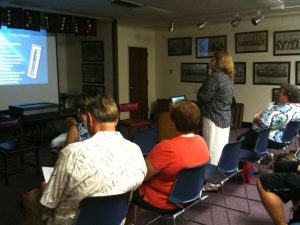 Fam Brownlee, local historian and staffer from the North Carolina Room, did an excellent job instructing the group about how to use the flatbed scanner. His trademark humor and knowledge of technology made him a crowd favorite.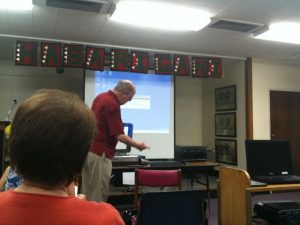 Around noon, Merrikay Brown, head of the Lewisville Branch Library, took over to teach the group about the slide scanner, VHS to digital, and audio cassette to digital converters.
FCPL Assistant Director Elizabeth Skinner was pleased with the results from the workshop. FCPL is collaborating with the Forsyth County Computer Training Bridge to implement digitization center training courses for the public on a regular basis. It looks like the equipment and training via "Preserving Forsyth's Past" has created a true community resource!