This article is more than 5 years old.
Mary Scanlon, Mary Krautter (from UNCG) and I had the astute pleasure of presenting at the 21st Annual Conference and Exhibition of Special Library Association Arabian Gulf Chapter. The three of us did both a workshop on Developing an Entrepreneurial Culture in Libraries, and a presentation on Entrepreneurship in Libraries: Transforming Library Services. We were approached last July by email in what, I admit, I initially thought of just trashing because it was just so extraordinary to get an email from a representative of this conference across the world asking us to do them the honor of presenting at their conference. But after doing our due diligence, we began to prepare for this amazing opportunity. The representative who invited us, Mohamed Mubarak, was a most gracious host, and was anxious that everything be perfect for our presentation and our stay.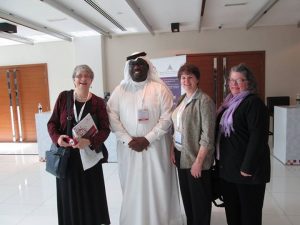 The workshop, held on Monday, March 16, was a pre-conference session attended by just 6 people. However, the small size allowed for a great deal of engagement and conversation. They were very interested in our presentation. All of the attendees were from special libraries, and interestingly, all of them did work related to tourism, either from post secondary schools that had programs that emphasized in tourism and hospitality, or from the government's Department of Tourism and Culture. (We did note repeatedly that they take their hospitality very seriously in the United Arab Emirates.) While we carefully constructed our message owing to what we perceived as a more restrictive environment, we were delighted to learn that great strides had been made to increase transparency across the UAE. Their's is a model that will go through growing pains for awhile, but there were definite signs of a relaxing of the rules to allow more entrepreneurial ideas and methodologies to take root.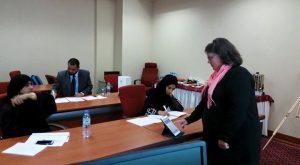 The next morning, at the opening keynote, the themes of the conference became apparent as Dr. Essa AlBastaki, the President of Dubai University spoke about the need for expanding the economy beyond one that hinges entirely on the availability of oil. He mentioned the value of entrepreneurship and the importance of supporting it several times in his speech. We listened to this, (and other keynote speeches) through a simultaneous translator. This was also an interesting experience, and was again indicative of the hospitality extended to non-Arabic speakers. They were well prepared and willing to do whatever was necessary to make us feel welcome.
Our presentation was the afternoon of the first day. The session started a little late (we learned of what we termed the "elasticity of time" in the UAE) but the session was well attended and again they expressed a great deal of interest on advancing entrepreneurship in their libraries. Many people after the presentation came up to gather business cards and the questions posed in the Q&A indicated a deep understanding of the content. It was thrilling!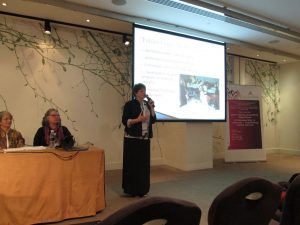 Other presentations I attended included one with Rick Anderson from Utah University on e-books and the challenges of PDA models for ebook acquisition, and Lisa Hinchcliffe, from the University of Illinois on assessing the impact of information literacy education. I also caught up with former colleague Vanessa Middleton, who now works in Abu Dhabi in the Petroleum Institute, and she presented on how to develop better relationships between libraries and vendors.
So aside from the occasional use of a translator, the issues in libraries are much the same the world over. That, I think, is the best takeaway of all.
Interested staff members from ZSR will be able to see many more photos (including non-conference photos) at a staff development session coming soon.
After a very brief turn around time, (arriving home Saturday morning at 3am and then leaving for the airport on Tuesday morning at 9am) I went to nearly the opposite side of the globe to attend ACRL in Portland, OR. The time difference between Abu Dhabi and Portland is 11 hours, so it is very nearly the opposite side of the world and the opposite side of the clock. (I can't tell you how important coffee is to one's body in this situation.) I attended the Ithaka S+R session that Roz already ably blogged about. I also was in the very enlightening and, frankly, inspiring session on Wellness and how libraries can impact wellness on campus that Susan wrote about.
I went to a session with three different library perspectives on emergency planning where I picked up this gem which unites my desire for simple signage, humor, and emergency planning.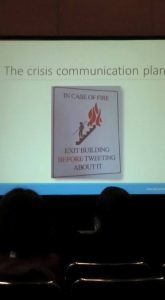 I attended two other sessions that were all about ebooks and their influence on researchers. One, entitled "STEM Users Prefer Ebooks. . . Or Do they?" provided a qualitative and quantitative study conducted at a large academic library which challenged the assumption that ebooks are welcomed, or at least not held in disdain, by the hard Sciences and Math researchers. Their assessment was very thorough and raised a lot of questions, not the least of which is that more assessment is needed. I had a meet up with the other "Assessment in Action" project coordinators who were at various stages of completing the research leg of their 18 month long assessment. Our final presentations are due at ALA in San Francisco. That is when I will be blogging next.
It was quite the whirlwind, (21 days of travel total) but now I'm glad to be back on Eastern time and home for a while. While I wouldn't recommend it, neither would I give up the opportunity to do it again if the opportunity presented itself!