In our exploration of new and trendy technology, ZSR decided to purchase a GPS unit to be made available for checkout. The model we decided on was a Magellan eXplorist GC, hoping to be able to partner with other campus departments, such as Campus Recreation, in an attempt to provide new and interesting services to the community. Upon receiving the item, we discovered what the GC in the name stood for, in that the unit is designed almost exclusively for geocaching, a grown up version of the age old classic hide and seek.
Here's a basic intro to Geocaching. Someone hides a Geocache, usually plastic or metal box/container, and then leaves clues and GPS coordinates on geocaching.com. Other people then go hunting for the geocache, using the clues and their GPS unit to find the hidden box. Things hidden in the box vary by the hider, sometimes containing a log book for people to sign, small souvenirs of the hunt, or other items. However, it is proper etiquette to never take anything unless you leave an item in return, the hope being to add to the uniqueness of the cache by having a little piece of a lot of different people. You can then go back on the website and update your completed hunts, comment on others, and so on.
So, after reading over the rules of the hunt, Erik, JP, and I decided to try it out on our recent visit to East Carolina University. We located a geocache on the campus, the ECU Sonic Wall webcam.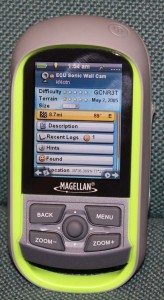 The idea behind this particular challenge was to line yourself up with the webcam, streaming on ECU's website, and take a picture or screen capture of you and your GPS unit. You could then post this on the site and earn "points." So, after a day of learning about digitization workflow, we decided to take a quick walk around the ECU campus to track down the fountain. As we walked around the parking lot behind the library, we realized we were growing nearer and nearer, until we finally arrived back at the front door of the Joyner Library and realized we had already walked by the Sonic Wall Fountain three times that day. We located the webcam, and with the help of Erik's 3G iPad, managed to grab a screen capture of us in front of the fountain.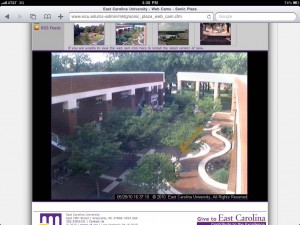 Several Geocaches are located near Wake, mainly in the Reynolda Gardens and its related trails. We are planning on loading our GPS unit with several of these, so if you're interested in a quick hike, let Barry know.