Gretchen then described the current architecture of digital collections. Digital collections are stored in a home-grown TeXtML/asp.net repository. ECU uses dSpace for ETDs and other faculty/student research, but not for special collections. Metadata is formatted as XML in a METS wrapper, using MODS for descriptive metadata and Dublin Core for OAI harvesting. Erik and Jean-Paul mentioned that their repository is Windows-based, but we got some great ideas from their user interface.
On the Digital Collections website, Gretchen explained that digital objects were arranged according to collection strengths instead of by collection title or digital exhibit. Users can explore subject-arranged collections. In this way, Gretchen showed how digital collections can be a way to intellectually organize material in a digital interface. The option to search across all collections is featured on their website. The site includes a shuffled tag cloud consisting of shortened LC subject headings, as well as LC, geographic location, and date information as facets for digital object records. Here is an example. Note how each record includes a "Related Resources" box that links the record to subject collections and records with the same LC subject headings. One of the most innovative features of the box is that it links the record back to its source collection's finding aid – as well as other items in the same box, folder, or collection! This is something we could do at ZSR. User comments are easy to add and are indexed in the object's MODS record.
Archival finding aids at ECU are encoded by Mark Custer, who created a functional and creative stylesheet that allows users to interact with content and digitized material. Each finding aid has a tab for viewing digital objects, which links back to the digital repository. Here is an example. Finding aids are fully searchable and include a printable version. ECU does not use Archivists' Toolkit but they are investigating the possibility of incorporating it into their workflow.
Metadata librarian Patricia Dragon demonstrated the web-based form that was created for her and other catalogers to use to catalog digital objects. Once material has been digitized, catalogers are sent a "job" request to catalog the objects. Using pull-down menus, catalogers choose descriptive terms for materials (even previously used LCSH and creator terms are saved). The web forms interact with a SQL database and are re-indexed regularly. Perhaps the most interesting aspect of the metadata workflow is that all digital objects are made available online with basic metadata (such as title and source collection) and remain that way until fully cataloged.
Digitization and digital project requests forms are also web-based, making it easier for library staff to submit ideas. Their form is similar to a draft that I am working on, except it is connected to an SQL database that staff can interact with and prioritize. ECU is forming a "selection advisory team" similar to what we are working on, that will score, rank, and give deadlines to digital project submissions. This type of group is also being discussed at ZSR.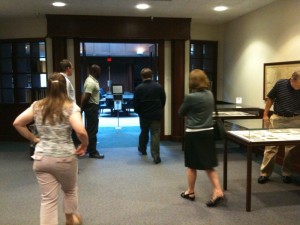 We got a tour of Special Collections from Dale Sauter, which included their beautiful reading room and spacious archival stacks. We learned that Special Collections' role is more focused on selection and project suggestion, less on description or project management. While Digital Collections has existed as a unit within the Special Collections department at ECU, last week the unit was moved to a new department called Library Technology and Digital Initiatives (they are searching for a department head). We also had a tour of the Digital Collections area of the library, where Joe Barricella supervises student employees' digitization and technical metadata.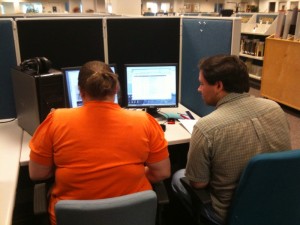 The digitization task force at ZSR will be meeting early this month to discuss the ECU visit and potential policies for digitization. Overall, it was an inspiring and informative field trip!