ZSR strives to make the most of available space for its growing book collections, while also meeting rising demand for study space and collaboration areas. Additional mobile shelving and collocation of the oversized books bring more overall order to the collection while low-use older books continue to be moved to storage. Details for finding your books follow!
Mobile Shelving
The basement of the Wilson Wing (Wilson 1) – being out of the usual path, yet well-lit and built sturdily enough to accommodate extra weight – is a prime location for mobile shelves. Mobile shelving can hold about 75% more material in a given area compared to static shelves. The shelves installed this summer will enable moving additional collections down to Wilson 1.
Oversized Collection
Before this summer, all of the books that were too large for standard shelves had been shelved in a separate Oversized Collection at the start of each call letter. This summer, all of the oversized items have been consolidated into a single collection on the sixth floor of the Wilson Wing. When the catalog indicates "Oversized Collection," look on the east side of the Wilson Wing, on the shelves closest to the restrooms.
Offsite Storage
The library also continues to transfer items to storage. The project currently underway entails moving certain older, little-used, but still valuable monographs. You can check out these books by using the "Request from Offsite Storage" link from its catalog record.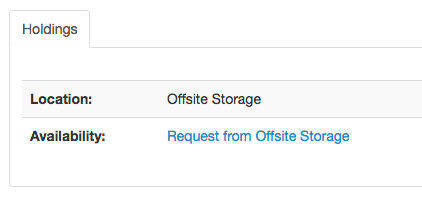 ZSR staff at the Circulation and Reference Desks will gladly assist with finding books. Alternatively, you can use the "Hold for pickup" feature in the online catalog for convenient retrieval and checkout at the Circulation Desk.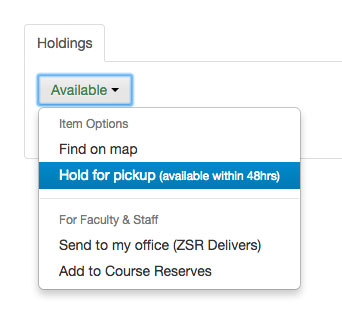 For even more convenience, select the "ZSR Delivers" feature to have items sent right to your office. Deliveries are made twice a day, Monday-Friday.