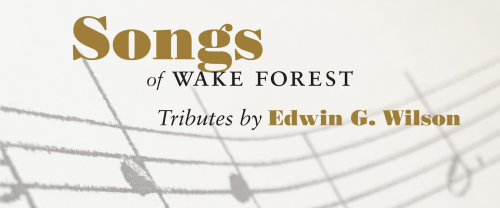 Songs of Wake Forest with Dr. Edwin Graves Wilson
Friday, December 11 at 3:30 pm – YouTube premier
ZSR Library Special Collections and Archives is celebrating Songs of Wake Forest, the latest book by Dr. Edwin G. Wilson. Ed Wilson's relationship with Wake Forest, which began when he entered the College as a freshman in 1939, has continued for more than eight decades. Throughout his tenure, he has paid tribute to many in the Wake Forest family whose lives have intersected with his – sometimes speaking on behalf of the University and other times as a personal friend of the family. Songs of Wake Forest celebrates our founding ideals and offers praise for  the men and women whose character and contributions shaped the University as we know it today.
On Friday, December 11th, the ZSR Library will be holding a launch party, which will feature readings by Dr. Wilson and his reflections on the creation of this book. You can register here. We hope you can join us!
For those of you interested in pre-ordering your copy of Songs of Wake Forest, please visit Bookmarks. We anticipate that books will be available on January 10, unless there are unforeseen delays caused by the pandemic. If you would like to purchase multiple copies of the book or have questions about the event, please contact ZSR's Renee Berry by email at berrysr@wfu.edu or by phone at (336) 758-5480.