After postponing last year's Fall Break Graduate Student Retreat to Spring Break 2021, and then moving it to Zoom, it was nice to hold a face-to-face fall retreat over fall break this year! On Thursday, Oct. 7th, the ZSR Library, along with the Graduate School, hosted our fifth annual research retreat for WFU graduate students. Both the Reynolda Campus and Wake Downtown graduate students were invited to attend. Fourteen graduate students attended this year's event, where we hosted four workshops.
Dr. Jacqueline Friedman from the Learning Assistance Center and Grace Waldrip from the Writing Center led sessions, as did Dr. Heather Barnes, Digital Curation Librarian, and Molly Keener, Director of the Digitial Initiatives and Scholarly Communication Team from ZSR. These sessions covered topics ranging from "Addressing Writer's Block" and "Time Management" to "Data Management" and "Copyright and your Research".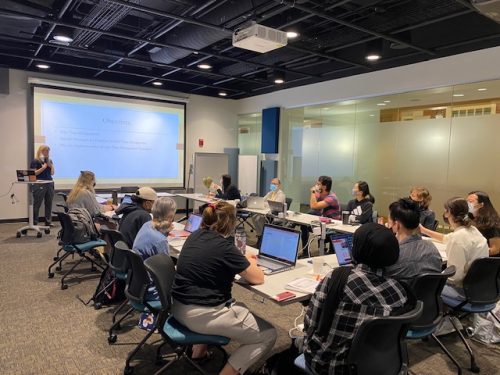 This was once again a wonderful team effort involving partners across campus, and the graduate students were excited to participate! Special Thanks to the Dean of the ZSR Library, Tim Pyatt, Dean of Graduate Programs in the Arts and Sciences, Dr. Brad Jones, and Director of Graduate Programs in Biomedical Sciences, Dr. Erik Brady for funding this event!