Last Spring, while discussing ideas for "New Deac Week" outreach events, the ZSR Outreach Librarians and the ZSR Student Ambassadors began to form an idea to both promote the services of the ZSR Library and our campus partners like the Writing Center and the Bridge, while also helping encourage new students to use the library during those critical first six weeks of the semester. What developed from those conversations was "Study Sundays @ ZSR" for the first five Sundays of the Fall 2021 semester. Beginning with the first Sunday of the semester on August 29th, and tied in with "New Deac Week" events, the Library hosted a two-hour open house style event from 3-5pm with snacks (courtesy of the SAF fund), prizes, and information on services available in the ZSR Library!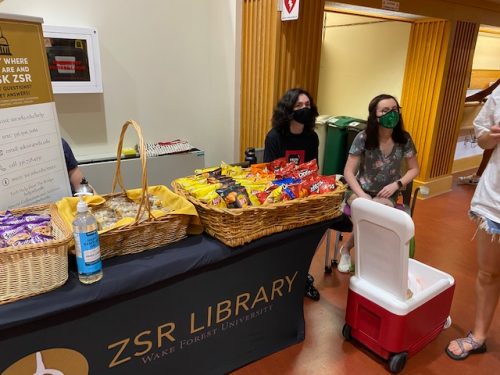 The first Study Sunday focused on services available from the ZSR Library Main Service Desk, where we gave away aluminum ZSR water bottles! We also swiped IDs to keep track of how many were attending and to offer students "Link Loot" (for many new students we were their first experience with "Link Loot" and we had a wonderful opportunity to explain the program!)
Week two had the IS Service Desk "The Bridge" giving out USB-C adapters to students! (A popular giveaway item!) as well as more snacks! In week three we focused on Research Resources and gave away ZSR cell phone wallets and cell phone stands from the library vendor, SAGE. During week four, the Writing Center gave away branded journals, and for our final week, ZSR Special Collections and Archives set up a pop-up display of items from their collections and gave away stickers!
Over the five weeks, 187 students swiped into these events, and many more participated, grabbing a snack or a giveaway item! Of the 187, only 33 were repeat card swipes, meaning we saw a wide variety of students and not just the same students repeating each week! while participation did wane over the five weeks, this proved to be a great way to engage with new and returning students and remind them of the services the library offers! (and perhaps even encourage good study habits!)
We would not have had such great success without the participation of our campus partners, the Writing Center, and the Bridge, our ZSR Special Collections and Archives, and our Access Services Team, and our ZSR Ambassador volunteers as well as ZSR student assistants who worked the events! Additionally, without funding from both the ZSR Library and the Student Activities Fee, we would not have been able to offer giveaways and food! This was truly a team effort!