Welcome back to another installment of 5 Questions! If you would like to choose 5 Questions yourself, feel free to choose 5 from this form.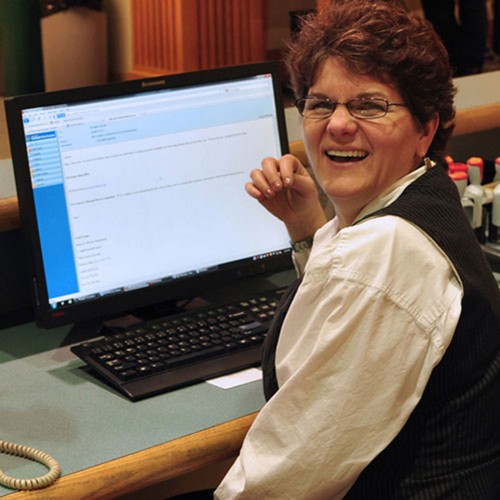 Mary Beth Lock, Associate Dean
Tell us about what you do at ZSR Library?
My portfolio includes managing our facilities, and keeping our aging infrastructure sound; appointing and coordinating Library Committees; managing faculty affairs and overseeing the annual review process for faculty and staff; assisting with outreach, events planning and communication; and planning and participating in our assessment efforts. In truth, I do whatever needs doing at any given time.
What is a typical day in your work life?
Generally, I check and respond to email, attend meetings, respond to emergencies, try to keep the wheels on and try not be an obstructionist.
What is your favorite library story? (or memorable experience?)
The weirdest thing that I remember was the time we found two new Firestone truck tires that had been rolled into the handicapped stall of a restroom in the Undergraduate Library at Wayne State. Of course, Wayne State, and Detroit, were very connected to the auto industry, and Ford Motor Company had just severed a long term relationship with Firestone. It was all over the news. So we are certain that the placement of the tires in the restroom was some sort of political commentary. To this day, we don't know who did it, and really don't have any idea how they managed to roll those tires in without anyone seeing them.
How did you start working in libraries?
I started working as a student assistant at the Circulation/ILL department in the Science and Engineering Library at Wayne State University. After a few years working on my Undergraduate degree, I took a full time job in the Law Library also at WSU. Then worked my way up from non-exempt staff to manager, and stayed working in libraries even after I graduated with my undergrad degree in Environmental Biology. I was always afforded new and interesting committees to participate in, so it was never boring! (This is why I am so big a fan of our committee structure in the library today!)
What is the best piece of advice you have ever gotten?
When you are offered an opportunity, take it. Even if you think it isn't "right" for you, whomever offered you that opportunity might see something in you that you won't.