Special Collections & Archives (SCA) had a very busy and productive Homecoming Weekend! In addition to hosting and sponsoring events, we also met with several donors who brought us more materials for the University Archives, which is always appreciated.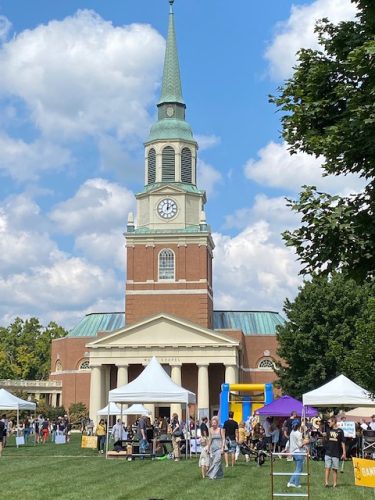 On Thursday, Tanya hosted an event for WF alumnae and SCA donor Jane Crosthwaite (WF Class of 1959 and Professor Emeritus, Mt. Holyoke College), who recently published a book: Shaker Visions of the Divine: Essays on Their Sacred Art and Scripture. Over 25 family and friends attended, including Ed and Emily Wilson. For anyone interested, Jane's book may be ordered from the site.
Friday events featured the Special Collections & Archives Expanded Wake Voices and Inclusive Student Life Collection Oral History Project. SCA Student Curator/Filmmaker and ZSR Ambassador Parker Beverly hosted a premiere of her film I'm A Woman, Phenomenally: A History of Wake Forest Women for an audience of 70. She was available for questions afterwards and a small reception was held in the Tribble Courtyard featuring the Intersections: Roads of Honor and Deacon Women Through the Years tabletop exhibits.
Over the past few years, SCA has been collaborating with the Swimming/Diving Team to collect historical materials and also curate exhibits for their Homecoming Reunions. Ashelee, who is also working with our Athletics collection, created a small popup exhibit for their Friday night event. Their planning committee also selected a number of artifacts to be included in the display. A special thanks to Stephanie, for updating the finding aid to make the selection process easier.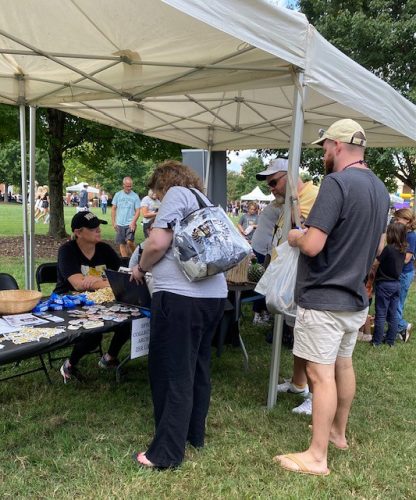 Saturday, Rebecca and Tanya hosted an SCA table at the Festival on the Quad with a popup exhibit Intersections: Roads of Honor. The most popular items were the University Howler yearbooks that we brought out to the Quad. Alumni and their families spent a lot of time finding themselves and friends in the yearbook! We spoke with over 200 visitors and handed out magnets, postcards, and oral history signup cards.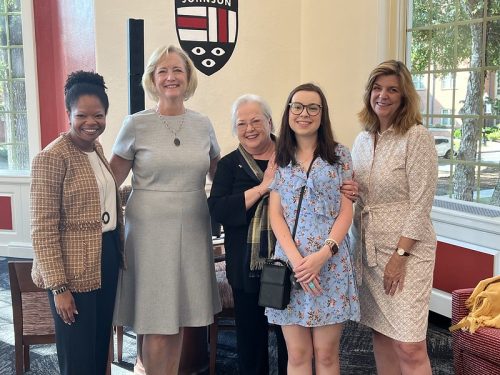 Finally, Rebecca hosted a popup exhibit on Strings for the celebration of the new Strings Parlor in Johnson Hall. Board of Trustees Member Donna Boswell both orchestrated the event and naming on the Strings Parlor, but was also honored at the event for her commitment and vision. Speakers included President Susan Wente, Provost Michelle Gillespie, Vice President Shea Kidd Brown, and Vice President Mike Haggis. Over 100 alumnae were in attendance for the event. They had a chance to tour the newly renovated building while sharing memories, and they even sang their song of sisterhood. It was a very lovely and special event, and we were honored to be a part of it. View more images here.
A special thanks to Barry, Megan, Ashelee, Daisha, and Stephanie for assisting with some of these events. We had such a fun and full weekend with alumni and their families!