This article has been reproduced in a new format and may be missing content or contain faulty links. Contact zsrweb@wfu.edu to report an issue.
I'm doing the abbreviated version of ALA. I arrived late Friday night and leave early Sunday evening, but I'm making the most out of a fast weekend! I was fortunate to be one of Erik's "Lightning Round" presenters at his marathon Cloud Computing session. Turnout was amazing, Erik did an amazing job keeping things moving, and Susan diligently shot video of the session (and we all helped drag in extra chairs for people!) Since my portion of the "Lightning Round" was at 9:15AM, I attended the 8AM panel discussion that served as an excellent introduction to those new at Cloud Computing. The 15 minute panel presentations kept the session moving, as did the 5 minute lightning round presentations.
I followed up this session with a trip to the ALA Store and saw Susan's book! (She got an entire shelf!) Next I went to the exhibit hall and stopped at the ALA SCVNGR table where I learned about an iPhone/Android/text app similar to FourSquare that allowed participants to be part of a "scavenger hunt" that involved stopping at booths, taking and posting pictures a even some QR Codes! Speaking of QR codes, Alexander Street Press had a QR code they were handing out for a free playlist of music for the 4th of July holiday! Once I scanned the code, my iPhone (still the old one, haven't been able to get my hands on an iPhone 4 yet!) I was taken to a website with the playlist and links to stream the music. Alexander Street Press also offers free classical music downloads every month. I only had a half hour on the exhibit floor before my next session, so I plan to go back tomorrow to see all the vendors.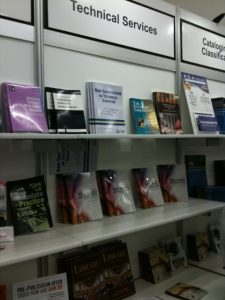 The next session, "The (Screen) Casting Couch: Tips and Tricks to Effectively Use Screencasting Tools for Library Instruction" gave a good overview of slidecasting, screencasting and common craft videos. One librarian even used Jing to create video answers on the fly to reference questions, considering these "one-time" use videos easier than using text to answer some questions. I thought this was an interesting proposition.
For lunch I attended the EBSCO Luncheon at the Renaissance Hotel about a block from the convention center. EBSCO focused primarily on their Discovery solution and on their recent acquisition of NetLibrary and their future plans for those e-book and audiobooks.
I'm excited to hear Toni Morrison later this afternoon/evening and Marlo Thomas tomorrow morning. (I loved "Free to Be, You and Me") Once I'm checked out of the hotel tomorrow I'll attend a few more sessions and cover the exhibit hall before taking the Metro back to DCA at 5. See you all Monday!