This article is more than 5 years old.
Tuesday I attended a workshop on OCLC's WebScale service. The workshop was a joint offering from OCLC and Lyrasis held at the Durham Public Library. DPL, OCLC and Lyrasis were excellent hosts as we had wifi, coffee, and lunch (I chose a basil, tomato, mozzarella sandwich).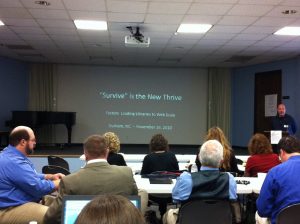 We started the day with an exploratory talk by Tim Rodgers about the 'cloud.' Tim talked about a number of interesting topics and touched on some key reasons why libraries are interested in cloud computing (Expertise & $$ were key reasons). These are compelling reasons for any institution but I was struck with a statistic that Tim used – there is a county library system in NC that only has a budget of $7.50 per resident as compared to a national average of ~$20 per resident. Combined with the fact that this county is small and sparsely populated and the expertise and money arguments become very compelling.
We spent most of the rest of our day learning about OCLC's service, talking with our fellow workshop attendees, and seeing OCLC's services in action. There were lots of interesting features but perhaps the most compelling image that I saw came from one of the presentation slides that drove home two key ideas: First, a key focus of their presentation was the integration of work-flows with external data. They demonstrated an Amazon ordering plug-in that used web-services to exchange data between the two systems. Second, the discussion emphasized the idea that running services on a combined database and in a shared environment enables new data services (content aggregation, discovery, analytics, testing, sharing).
The demo portion included some interesting questions about specific features and when they would be available. I will not try to comment on specific development cycles and feature availability but suffice it to say that while there are lots of features now, some of the stuff you need is still coming. Generally speaking Circ seemed to be a bit more complete than Acq but they had a vision for how the system would evolve over the next year.
It was an interesting day. I got to speak with folks from Lyrasis about hosting & open source systems, with folks from Elizabeth City State University about libraries and their IT needs and got to learn a lot about OCLC & their Web Scale Management Service system. If you are curious there are lots of links, presentations and videos on the OCLC site http://www.oclc.org/webscale/default.htm.
There will be a webinar on December 2nd with OCLC that includes a live demo of functionality.