This article has been reproduced in a new format and may be missing content or contain faulty links. Contact zsrweb@wfu.edu to report an issue.
I quickly found a theme for ALA 2012 in Anaheim, "Connections Made and Missed". Like Roz, I am not enamored with Anaheim as a destination, but I found this ALA a great place to make connections. Also, like Roz, I began my ALA 2012 experience at a SAGE dinner with Elisabeth Leonard, some librarians and others from SAGE. One person from SAGE came from CQ Press. I had the opportunity to tell him how I use CQ Researcher in my Lib100 classes, showing students how the same topic in a CQ articles is often far more complete than the Wikipedia article on the same topic. I chalked up this conversation as a connection made!
My first official business came Saturday morning, serving as note taker for the LITA forum 2012 planning committee meeting. The LITA forum is October 3-7, so this was our last face to face meeting before the forum. The theme of the 2012 forum is:New World of Data: Discover. Connect. Remix. and will be held in Columbus, Ohio. OCLC is also sponsoring a free post-conference, "Innovation in Libraries 2012", October 7-9. I've enjoyed working on this committee and meeting the various committee members. More connections made!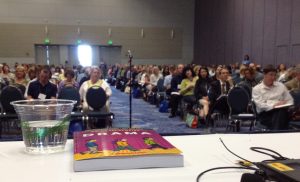 Next I had the honor of presenting for Susan at theALA panel presentation, "Reference Resurrected", along with David Consiglio, creator of the MISO survery, and Scott Vine, Deputy College Librarian at Franklin and Marshall college. Our moderator was Barbara Petruzzelli,Director of the Curtin Memorial Library at Mount Saint Mary College. Each member of the panel had 15 minutes to present and we had many great questions following the program. I had a great time getting to know David, Scott and Barbara before and after the program, and even ran into Barbara and her family later in the week on the pier in Santa Barbara! Three more connections made!
I skipped Erin Morgenstern's program. Her book, "The Night Circus" is a favorite of mine, but I had other things to do! Consider that a connection missed…for good reason. Instead, I attended the Alexander Street Press Breakfast. The event featuredJosh Tickell and Rebecca Harrell Tickell, director and writer of the Sundance award-winning film,Fuel. After seeing a clip of Fuel, I've placed an order for all three of their films. Alexander Street Press always impresses me with these events, not only do I learn more about their amazing products, (VAST: Academic Video Online, has grown to more than 16,000 titles.) but I also learn something new from their program speaker, and we all know librarians love to learn something new!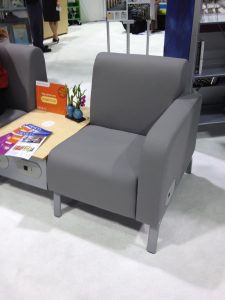 As Roz mentioned, we spent time with, Summon, Springshare, and Mango on the vendor floor, and I took the opportunity to check out some screen shots of Proquest's new Statistical Abstract, due out in November. It looks like this new version will be far more searchable and even include citation tools for users. I look forward to seeing it in action closer to the November release date. As usual I was intrigued by the latest furniture solutions for libraries. (I love chairs!)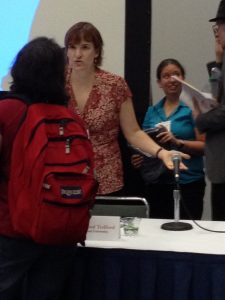 Roz gave an engaging presentation at the LIRT session on Critical Thinking. It was standing room only a full 10 minutes before the presentation began!Roz's presentation on her Junk Science exercise as a way to encourage critical thinking was a big hit! She had many questions following the program from librarians interested in her effective approach.
I skipped the Top Building Trends program (I'm a big fan of the architects at Shepley Bulfinch!) to attend the LITA Top Tech Trends program, where panelists Clifford Lynch, Stephen Abram, Nina McHale, Meredith Farkas, and Lorcan Dempsey discussed a variety of trends from structured data becoming integral to the web. (Google knowledge cards) to designing for mobile websites first. Lorcan Dempsey discussed the Future of Cataloging, saying that we are going to have a lot of structured data and it will require lots of work to be done organizing things at the level of the web, rather than at the level of the catalog.Clifford Lynch proposed that passwords are rapidly approaching the end of their useful life. Big services don't all know how to manage passwords and the threat level just keeps going up. Check out the video link above to learn more about these and other trends!
The final program I attended was the ACRL President's Program. As Roz mentioned, Duane Bray, Head of Global Digital Business and Partner atIDEO was the speaker. I encourage everyone to check out the video,The Future of the Book. He led off with the disclaimers that he was not a futurist and not a librarian and that he loves books. He talked about a wide variety of projects and ideas, including the first and oldest domain on the web,www.symbolics.com. He wrapped up his talk by describing six techniques for human centered forecasting
1 Observation-looking for new behaviors and needs not being met
2 Empathy-Putting yourself in others shoes is very powerful
3 Inspiration-Has soneone found the answer in a related field? This is the example of the NASCAR pit crew working like a surgical team.
4 Storytelling-Building a narrative around new ideas
5 Spaces-Space signals as a change agent, play gives people a signal new ideas are accepted
6 Prototyping-Making things tangible, a prototype can help people better see the idea you are describing.
He also discussed the power of creating an incubator for new ideas when you can't change everything at once. The incubator is like a sandbox for trying out new things at a low level of risk. It was an amazing presentation!
Roz and I ended our ALA experience by dropping in on Sarah's poster session. While the location may have been slightly off the beaten path, the room was packed and Sarah had a great audience!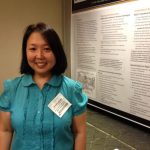 ALA 2012 in Anaheim helped me make many new connections and gave me some great new ideas. Now I need to get busy and capitalize on those ideas!