This article has been reproduced in a new format and may be missing content or contain faulty links. Contact zsrweb@wfu.edu to report an issue.
I like Anaheim as a conference site. While it doesn't have big city stores and museums, the weather was perfect for four days, the Convention Center was like a garden, and the hotels and programs were all close. It was a nice change.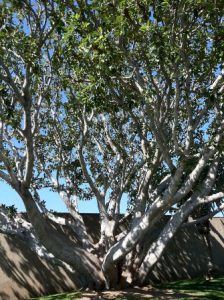 One of the things I enjoyed most about the conference was attending presentations by ZSR people. Carolyn teamed up with former colleague Erik Mitchell to coordinate a panel and give the paper "Current Research on and Use of FRBR in Libraries." I know very little about FRBR but they presented the information very clearly and what I got out of it was that in a pilot competition to analyze the works of Mark Twain, Carolyn went up against The Machine and won. Go Carolyn!
I also saw Molly more than hold her own on a distinguished panel of copyright experts analyzing the Georgia State e-reserves case. Molly was the only non- lawyer on the panel but she was every bit as knowledgeable and insightful as the other panelists. A person from Georgia State was in the audience and contributed quite a bit to the discussion. It must be strange to hear your own library discussed at every library conference in such great detail!
Sarah did a poster session for the Science and Technology Section of ACRL that put together all of her experiences in serving science students at Wake Forest. I remember reading and hearing her talk about these things individually, but when put all together, it was quite impressive. Her poster was very well received, and I even had to stand in line to talk to her about it!
Due to conflicts, I missed Hu's presentation of Susan's paper on embedded librarianship but I ran into three different people afterward who told me how good it was! And Roz reported that there were about 400 people present in a standing room only crowd to hear her presentation "Critical Thinking & Library Instruction: Fantasyland or Adventureland?" Did I miss any other presentations? It is so wonderful to see ZSR and Wake Forest shine so brightly in a national forum!
One of the main reasons I attended Annual this year was to co-chair the Cyber Zed Shed Committee for the 2013 ACRL National Conference. I attended three sets of meetings related to this task as we prepare to receive and judge the submissions this fall and winter. Roz is on the Committee with me.
The other main reason I came to Anaheim was to meet with groups of WFU alums in southern California. Angela Glover did a great job at setting up events where I could meet with people and tell them what we are doing in the Library. On Saturday afternoon, Angela, Roz and I drove up to Pacific Palisades to meet with about 25 people in the gorgeous backyard of a former student of Roz and Hu's. I talked for about 10 minutes and then answered lots of good questions from people who were genuinely interested in books, reading, libraries and, pf course, Wake Forest! The event made it to the WFU Alumni blog, which you can read here.
Then, Angela drove me down to San Diego Monday afternoon, where I had dinner with a group of 10 alums who are just about the most fun group of people I have ever met! I never did get around to giving my speech because we were having too much fun, but I did talk a lot about how ZSR has changed through the years, how our mission helps the university advance it's mission, etc. They said that not too many WFU administrators take the time to come all the way out to San Diego, zo they were thrilled to have me and made me promise to come back, which I will!
All in all, a great conference!