This article has been reproduced in a new format and may be missing content or contain faulty links. Contact zsrweb@wfu.edu to report an issue.
Friday developed into two themes, "Assessment" and "THATCamp" (The Humanities and Technology Camp). Among other stops, I attended sessions on assessment, and joined in on "THATCamp" as they created the topics for the five units in the Information Literacy MOOC they were designing.
The morning began with "Building a Culture of Assessment". I've been thinking about how to assess some of my outreach programs, and was hoping to get some ideas for effectively assessing events like Capture the Flag or "Humans v. Zombies". After discussing the literature around assessment in libraries, our presenters discussed the characteristics of an organization with a culture of assessment. These organizations tend to be those that create a safe environment for experimentation and focus on improvement of services to users. It requires leadership from above and commitment from below to create this culture of assessment.
Next, they discussed studies that show the majority of libraries don't act on the information learned from assessment, but our speakers pointed out that most of this data comes from case studies or rely on anecdotal or non-systematic evidence. As a result, they created a "Systematic Survey of Culture of Assessment and Investigation of Factors" and sent the survey to library directors at 1604 institutions and asked them to have the head of instruction complete the survey, all in an effort to get a better picture of assessment in libraries.
Of those responding to the survey, 59% said they do have a culture of assessment and 84% had a campus wide assessment initiative. Carnegie classification did not correlate to a culture of assessment, nor did tenure track versus non-tenure track.
Lack of staffing, time and support, were all listed in open answer questions as reasons for a lack of assessment. I'll be keeping my eyes open for their forthcoming article that includes more data and the survey instrument.
On Friday afternoon, I attended part of THATCamp (The Humanities and Technology Camp). It met all day, and the afternoon built on the morning work, but it also allowed for people to drop in for part of the day as well.
A quick review for the new attendees after lunch revealed that there were four sessions going on in the camp. One was on digital story telling, one was on creating a digital humanities project, one was on some technical programming and the group I joined was creating an information literacy MOOC.
The MOOC group had spent the morning laying the foundation for the MOOC. Below is a list of the key elements the group identified:
About the MOOC:
Make faculty able to integrate IL into any course
Focus on critical thinking skills
Build it as modular and open source
Create an experience where people can come and improve skills AND a way for the content to be re-used.
MOOC as an experience, not a tutorial
Faculty could then run it for a week or it could be led by others in other settings
What the MOOC would achieve:
Participatory environment
Tools that are good for communicating IL
Facilitate peer learning
Teacher not as expert but facilitator, Can learn from everyone
In the afternoon session, eight people at my table began by determining the topics for the five units and creating a framework for the units. To do this, we all wrote out Learning Outcomes on over 30 post-it notes and then grouped like outcomes together to get our broad topics for the five units. The MOOC group was large, so we had a second table that was doing this same task. At the end we compared results and found them to be very similar. This was an excellent process that I'm sure I will be able to apply to future course development projects.
Here are some photos and a bit.ly URL that links to a Google Doc from the morning session: http://bit.ly/12THXii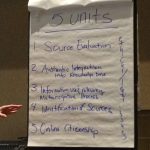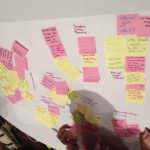 On Saturday morning, I attended "Queering the Library: What are you doing to serve your LGBTQ community" There were about 40 attendees in the room and I was happy to see such a big group for an LGBTQ program. I learned that Wake Forest University is doing many things right to serve our LGBTQ students. Having a "Safe Places" program, an LGBTQ center, and supporting LGBT students in the library were all mentioned and are all things we do. One main point was the importance of LGBTQ members of the campus and LGBTQ allies need to be visible! It makes a difference! More info can be found at http://librarylea.com/queerlib/
ACRL 2013 has been a great source of information and ideas. Now I'm ready to get back to ZSR, wrap up this semester and try some of these ideas!