This article is more than 5 years old.
On Wednesday, Amanda, Hu, Joy, and I made the quick drive to High Point University for the winter meeting of NC-LITe, a small (but growing!) group of North Carolina librarians interested in learning and sharing about technology and library instruction. It's a great opportunity for cross-pollination, and I'm starting to make some great professional relationships with people I've met through NC-LITe. I'm always excited for NC-LITe, but this time I think all of us were excited for one reason in particular.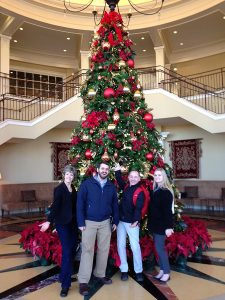 Sharing
The turnout this time was great–there were about 30 librarians from universities all over North Carolina. Each campus shared some updates, then there were a handful of lightning talks, including our own Hu Womack, who talked about the very exciting pilot project of using a class set of Kindle Fire tablets in his LIB210 class. Here are some other highlights:
HPU has some beautiful and heavily-used new library instruction spaces. They're currently partnering with their English department to integrate online information literacy tutorials into first-year writing seminars, and currently five librarians are teaching a one-credit "research in writing" seminar in conjunction with the English department. They're also doing a lot of support for faculty who want to assign multimedia projects.
UNCG just went to a new team-based model for their liaison and instruction folks: the way I understand it, instruction and scholarly communication people work in functional teams that support the work of liaisons in subject teams. For example, there's a team for instructional design that can work alongside a subject team that wants to do some ID work. They're also expanding the services and spaces they offer in their Digital Media Commons–they now have a gaming lab, a small makerspace, and lots of support for multimedia assignments (sensing a theme yet?).
Duke is continuing their work with MOOCs. Right now, each Duke MOOC (DOOC?) is assigned a subject librarian. It wasn't mentioned what kind of work they do for the MOOCs, and I didn't get a chance to ask, but you can read more about it here.
NCSU recently opened some new spaces in the new Hunt Library (which we visited last time). Their media spaces are now open, and to get them just right, they brought in a rock musician, who is also developing multimodal courses at NCSU, as a consultant. They seem to be focusing quite a lot on integrating themselves into multimodal courses and multimedia production, so the library has loose support teams that spin up every time an instructor wants students to create, say, podcasts or websites as part of a course.
Useful Tools & Resources
One of my favorite things about NC-LITe is that I always come away from it with a few new toys to play with and resources to explore. Here are some of the best that came out of the breakout sessions:
Campus Tour
HPU's campus is pretty impressive. I'll let the photos speak for themselves, but what you can't see from the photos is that everything smelled like fresh-baked cookies. More photos here and here. Thanks, Joy and Hu, for taking pictures!