This article is more than 5 years old.
On Friday, May 31st, Joy Gambill, Kyle Denlinger, and I attended the NCBIG Camp 2013 at UNCG's Jackson Library. The North Carolina Bibliographic Instruction Group (NCBIG) is an NCLA discussion group, and this "unconference" was designed to be a participant-driven event, with facilitators for each of the twelve session (three breakout sessions with four facilitated discussions in each session). Joy, Kyle and I all agreed to facilitate a session. I attended a discussion on "Assessing Student Learning Outcomes", where I got some great ideas for embedding some assessment tools in my LibGuides and learned about an excellent LibGuide on assessment from Portland State University on "Assessing Library Instruction". Next, I attended Kyle's session on "Technology for Teaching and Learning", where we discussed a variety of useful tools including Infogr.am (yes, it is spelled that way!) "Mozilla Thimble" just to name a couple. After lunch, I facilitated a discussion on "Outreach to Students". I was glad I had prepared a structure for the discussion, developing an icebreaker and bring flip chart paper and pens for participants to use to list their successful outreach programs and their challenges.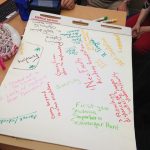 After everyone wrote their ideas on the flip charts, we discussed the results and found interesting differences and similarities between the K-12 and public libraries and the academic libraries. There was some interest in Humans v. Zombies and it looks like I made a connection that will get us a contingency from Winston Salem State University for the next event in October! All in all, we agreed it was a very productive day with some new and interesting ideas and some great networking with other librarians! Thanks to Joy and Kyle for a great day!