I know, I know, it's Vegas, and I should have a catchy title for this post. Alas no catchy title, but hopefully some good content!
Friday started with a 6am run on the strip, followed by an online meeting about flipping my Lib210 class. (During this meeting I discovered that my iPhone hot spot and the cell signals in Las Vegas were not robust enough for a smooth Google+ Hangout, but Bally's is not getting $15 a day for WiFi from me!)
Zappos!
Next, I had the pleasure of joining the APALA sponsored tour of the Zappos corporate headquarters located in the historic Las Vegas City Hall (Only in Vegas can a 40 year old building be historic!) Sarah Jeong, and the other leaders of APALA, did an amazing job arranging this tour. Many of you may have heard about the Zappos CEO, Tony Hsieh, and his new book, "Delivering Happiness." Zappos is known for its corporate culture and we were witness to it while there! The new employees who had just finished their four-week training program (all employees, no matter the job, go through a month-long training program, and all take shifts doing customer service!) held a parade through the headquarters, celebrating their completion of the program! We also saw the bocce court and hammocks pictured below!
Streaming Video in Academic Libraries
After lunch, the group visited the Downtown Project, a plan revitalized downtown Las Vegas, spearheaded by Hsieh, but I had to dash off to ProQuest Day at ALA to hear the presentation "Streaming Video in Academic Libraries." Jane Hutchison from William Paterson University and Deg Farrelly from Arizona State University surveyed a variety of libraries regarding streaming video and presented some of their finding at this presentation. Keep in mind, while the survey data wasbroken up by Carnegie classification, the data presented at this program isaggregated. Their survey instrument can be found at http://Tinyurl.com/SurveyASV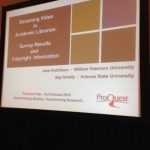 Here are some of the interesting points they discovered or confirmed. First, most libraries reported that tech support comes from the IT department, but primary responsibility comes from the library, where key responsibilities are widely distributed.
Licensing:
Only 3% of libraries have a dedicated agent, 16% were media librarians, 34% were Acquisitions Librarians, 39% other (from director to consortium and all in between)
Converting collections:
63% already stream
89% plan to convert
35% have not converted but plan to in the next 3 years
81% converting content with digital content licensing from a distributor as opposed to in-house digitization
58% don't digitize on request
40% who digitize on request do it via licensing
33.3% digitize under fair use, following guidelines from some of the documents listed below:
Code of best practices in fair use
Fair Use Evaluator
Copyright Guidelines (NYU)
ARL Code
TEACH Act
Internal copyright guides
The libraries that were digitizing on request were very serious about making a case for fair use. They were not just going about it without considering the repercussions.
Spending;
In the aggregate, libraries were found to be spending more on streaming than hard copy video, 28K for streaming as opposed to 20K for hard copy video.
32% anticipate spending less for hard copy video next year.
42% anticipate spending more for streaming individual titles
48% anticipate spending more for streaming collections
44% purchased streaming titles in perpetuity
42% purchased streaming collections in perpetuity
66% use term license titles
90% subscribe to at least one collection from an aggregator
Films Media Group and Alexander Street Press were the two primary players during the time of the survey. New players include: Kanopy, Docuseek2, Hoopla.
34% of libraries place lease records in catalog
46% of libraries place purchase records in catalog
57% of libraries place subscription records in catalog
22% of libraries don't catalog any of the individual streaming video titles
72% use a vendor's hosting (cloud storage for some or all of streaming video)
I look forward to seeingthe full report when it is published. The researchersplan to run this survey again and improve some issues with the survey instrument before the next round.
RUSA 101
Next, I attended RUSA 101 session and met Andrea Hill. I had worked with Andrea on presenting a recent webinar for RUSA and wanted to meet her in person and thank her for the opportunity. She mentioned there will be another open call to submit a proposal to lead a RUSA webinar soon after ALA if anyone is interested! This session offered a greatintroduction to RUSA and plenty of time to meet with the various sections set up at tables around the room.
Keynote-Jane McGonigal
I thought nothing could be better than the Zappos tour, but Opening Keynote, Jane McGonigal, game designer and author, proved me wrong! She was just as amazing as Zappos! I've been a fan of her TED Talks for years and was pleased to have the opportunity to hear her speak in person.
She began her talk by explaining that there are currently over1 billion gamers world wide! (Those are people who spend one hour a day or more gaming.)
Next she quoted a study that found that 81% of workers are not engaged in their work, which results in a 3.1 billion dollar loss in productivity. She argues that people are looking for a source of engagement. If we could take 1% of the 7 billion hours spent on games, we could build a new Wikipedia each day.
After presenting research that shows gaming can improve positive emotional resilience. for example, gamers spend 80% of time failing in videogames! She believes the coming generation of gamers will be super-empowered hopeful individuals! If we can harness that gaming energy toward constructive games, it could change the world. She used the example of the "game" Foldit, a multiplayer online game that engages non-scientists in solving hard prediction problems, and how its 50K players were all listed as authors in the 2010 "Nature" article resulting from their efforts.
She then asked the audience, what if libraries were the place for solving these epic challenges. Her game "Find the Future" a pioneering, interactive experience created especially for NYPL's Centennial, did just that, using the New York Public Library as a place where 500 players wrote found artifacts and prompts that directed them to write their own essays. At the end of the 12 hour event, the essays were published in a book and added to NYPL's collection, with each of the 500 participants listed as authors!
After hearing Jane McGonigal describe this event, Carolyn McCallum and I spent the next half hour discussing how ZSR could host this kind of event!
ANSS Social at Tamba Indian Cuisine
I ended the day with Carolyn McCallum at the ANSS Social, where we met a prison librarian and two librarians who had recently worked in Russian libraries. We also chatted witha librarian from Arizona State University about the new Starbucks/ASU online education program! It was a interesting crowd and a great way to end a busy day!
More to come!