On Friday, December 5th I had to opportunity to present at the NCLA College and University Section Conference in Charlotte, NC. The conference took place at the UNC-Charlotte City Center Campus which is where UNC-Charlotte hosts its MBA program. It's pretty fancy, check it out: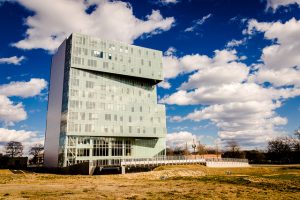 UNC-Charlotte City Center Building (Credit: flickr.com/photos/kenfagerdotcom)
Confession: I'm not a big photo taker! It never occurs to me until after the fact. So, please refer to the creative-commons friendly image above 🙂
The Keynote Speaker for the conference was Patrick Deaton, Associate Director for Learning Spaces and Capital Management at NCSU Libraries. He spoke to the audience about Hunt Library. The lecture focused having two years perspective on things that Hunt Library got right and things that they might change if they could do it over again. The biggest takeaway for me was the need for "as-yet-unplanned" space for future unknowns — e.g. what happens when you decide shortly before you open a new space that you wish you had room for a makerspace?
After the keynote, I gave my presentation which focused on how Google Glass was implemented in LIB 100. You can find my slides in the link below:
There were several other good presentations given by North Carolina librarians. I shared a time slot with some of our colleagues at Appalachian State who spoke on creating online library instruction in Moodle for their First Year students. They had several great insights for working within course-management systems. Another of our colleagues led an interesting discussion on using social media to enhance library instruction. There was also ample time provided for lunch and networking, so this was a wonderful conference for me to meet some other semi-local librarians.