Thanks to a fortunate alignment of events, I got to go on an all-expenses-paid (by me) trip to the International Medieval Congress in Kalamazoo, MI at Western Michigan University.
Most sessions were 1½ hours long and included three presentations around a common theme. I attended the following sessions (WFU faculty who presented are listed in parentheses):
In Honor of Dolores Warwick Frese I: Medieval Mothers and the Mother Tongue
New Research in Old High German Literature and Linguistics (Tina Boyer, German & Russian)
Gothic Language and Linguistics
In a Word, Philology: Etymology, Lexicography, Semantics and More in Germanic (Heiko Wiggers, German & Russian)
Crusades
Hanse Realm: Trade, Culture, and Exchange
Late Antiquity II: Late Antique Italy
Rethinking Reform II: Councils as Context, Catalyst, and Communicator of Reform
Philosophical Texts and Traditions (Michael Sloan, Classical Languages)
Since several of the papers were about the history of translating certain texts, I managed to touch on all five of my liaison areas in a single conference. Gale Sigal (English, co-chair of the WFU Medieval Studies program) invited me to attend dinner with her and four WFU students who were there. Lunches were in the school cafeteria. Mealtime conversations with WFU faculty led to five discrete requests from three different WFU faculty for me to buy a book, check up on a standing order possibility, etc. At one lunch, Michael and Tina discussed how they've used my instruction services, and they each pledged to use them more often. I almost never get PRS's unless I've visited the class, so I mentioned the possibility of a 10-minute class drop-in, which is mainly a commercial for the PRS service and the relevant Research Guide. (Fortunately I give Classical Languages and German fairly even attention – if I didn't I would've been busted!)
A few observations on this type of conference in comparison to librarian conferences:
The exhibit hall. My stereotype…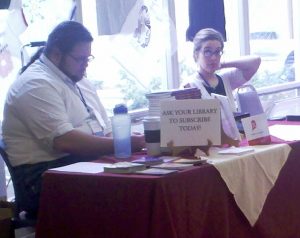 There was only one booth like this. This booth was more typical…
There was basically no vendor swag. The vendors were more focused on selling a single book today as opposed to selling $50K worth of product six months from now. This conference also featured sellers of "medieval sundries."
They didn't say, but I'm assuming these drinking horns are not dishwasher safe.
During the presentations, PowerPoints were relatively uncommon, and Tina was the only presenter I saw using Prezi. Much more typical was a paper handout. Usually the handout had a few paragraphs of medieval text that the presenter was going to analyze. In one case, the speaker handed out his entire paper! It was also not uncommon for a presenter to read a paper verbatim – something I almost never see at a library conference.
The sheer number of sessions was overwhelming. There were 565 sessions total, including as many as 54 in the same time slot!
The attendees seemed to be much more international (or at least European) than the crowd at library conferences. I either saw a presentation by or ate a meal with someone from South Africa, Germany, Italy, Finland, Hungary, Switzerland, Italy, Canada and the UK. Since church history is a significant aspect of medieval culture, there were several monks, nuns and priests in the crowd and among the presenters.
One similarity with the Charleston Conference that I attend annually: This conference is held in the same place every year, and a significant number of attendees go year after year. This situation leads to social groups forming and re-forming each year, as well as certain annual rituals like visiting the same restaurants.
Come talk to me if you'd like to hear more details about all the presentations I saw. Be forewarned: I might go on and on about two Old Norse words for "word" if you do.